HOLY SCHMOLEY PhotoBiz 8 just dropped right out of the sky and landed in a bunch of accounts!
Our very mysterious dev team went ahead and started doling out upgrades – so if you log in and see an upgrade button in your Builder, you're in luck! You can go ahead and start using PhotoBiz 8 right now. BUT HOW!?
I will tell you how. Here's how:
1. Go to your builder & click "
TRY PHOTOBIZ 8

"

 

 

 

Look for this green button in the top right corner of your Builder product: 

 

 

You'll be presented with this screen, where you can pick one of our 20 new templates (OH DID I MENTION THERE ARE 20 BRAND NEW TEMPLATES??) to start from. You can click around here and preview what they look like before you select one to start building on.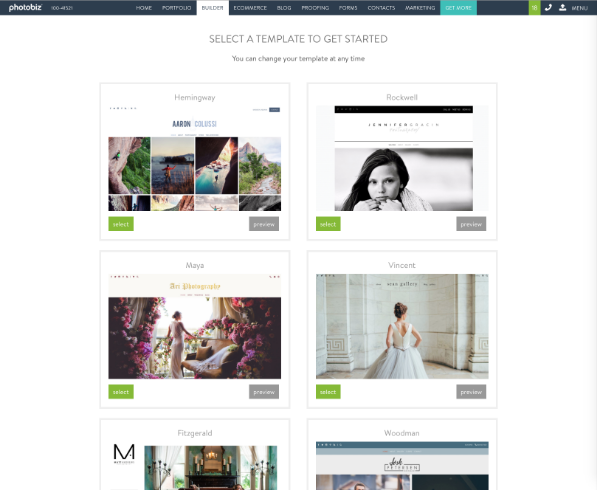 2. Import your content or start fresh
UPDATE 1/12/18 [5:00pm]: Import is currently disabled while we work out a kink. It should be back online soon!
When you're ready to get started, select a template. (You can change your template anytime you like later, so don't worry!) You'll then be asked if you want to import your existing Builder's content or start fresh with the content from the template you selected.
Please keep in mind that this is a one-time deal. If you start fresh, you'll have to put everything back in yourself if you change your mind. If you need help deciding which you should do, CALL US at 866-463-7620!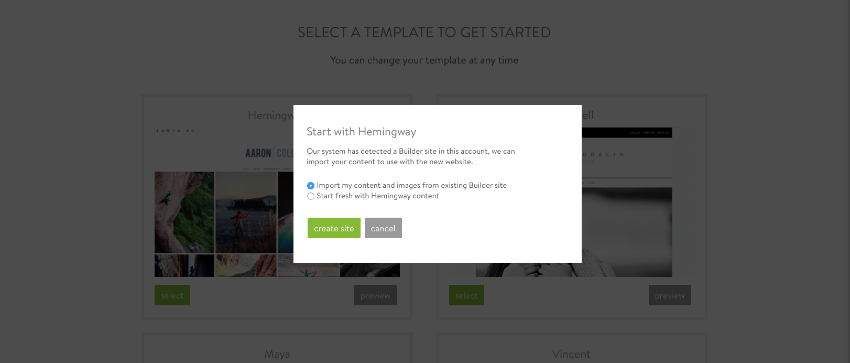 The import system is pretty smart. And if you don't have a lot of extra code or CSS on your current Builder site, it ends up ends up putting your content in with about 90% accuracy. You may have to tweak a few things before you go live with your new site, but it's generally really accurate! 
NOTE: YOU CAN ALWAYS DELETE BLOCKS! 
If you prefer to start fresh with a new template, all the building blocks will be loaded in for you to pop your words and images in. Your old site is still live and accessible to your customers while you're perfecting your new Photobiz8 site, and you can switch back and forth between the new and old Builder by clicking the link in the upper right that says "GO TO LEGACY BUILDER." 
PRO TIP: It's a good idea to open up two tabs (one with the legacy builder, one with PhotoBiz 8) so you can easily move between the two versions of your site while you build.  
3. Build & tweak until everything looks just right
Once you get your site imported, check around to see what's new in PhotoBiz 8! There are a ton of features, new blocks, a gajillion new layouts and options for everything, so go ahead and explore! No changes will be pushed to your live site until you are ready to publish.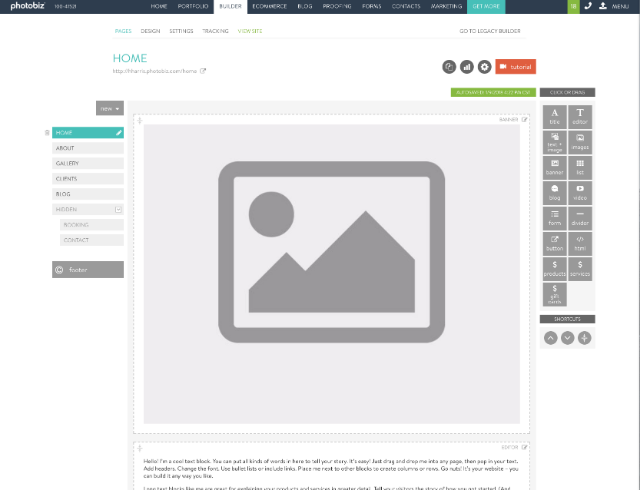 And if you get stuck, look for the orange tutorial buttons on each page. A screen will pop up with a video and step by step instructions to show you exactly what to do.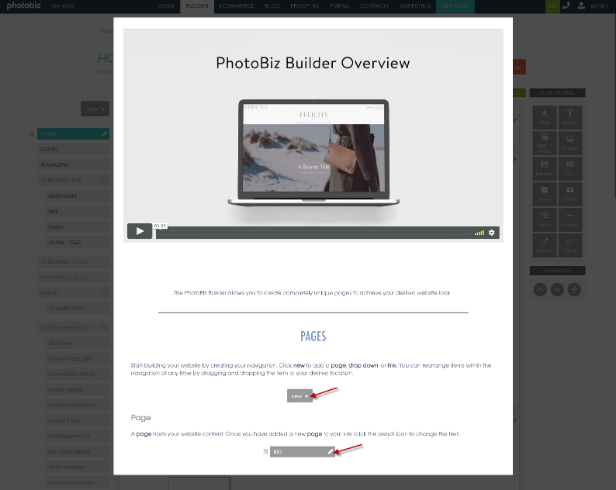 Here's one about how to use a cool new Text + Image block in the builder!
PhotoBiz - How To Use Text + Image Blocks from PhotoBiz on Vimeo.
Ashlie, Emma, and Jeremy worked really hard to make a TON of helpful videos and articles to help you along. (Here are a bunch more of them to check out if you want to do that first: https://vimeo.com/photobiz)
4. Publish when you're ready!
Once everything is good to go you can publish your website!
To do this, go to the MENU in the top right of your screen and click DOMAINS. You'll see your active domain and your PhotoBiz 8 site in draft below. Just click EDIT MAIN to make the change, and update your domain to the new site.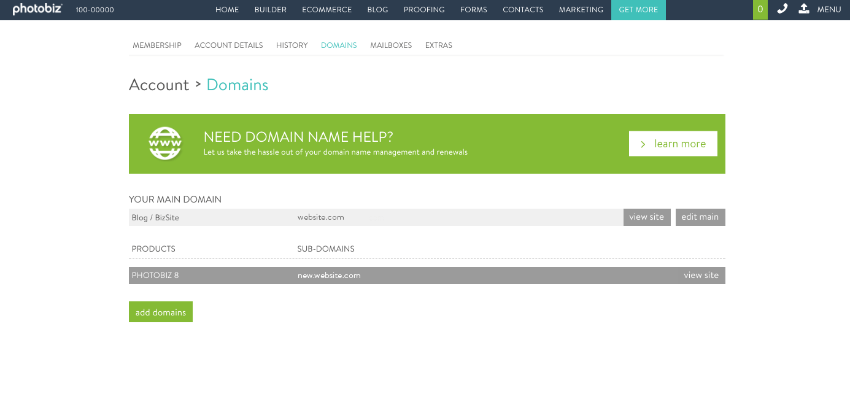 Voila! You're live!  
If you need any help or want to chat with our team, give us a call and we'll be glad to assist. If you don't have PhotoBiz 8 live yet in your account, please know that we're rolling out the update in waves, and you will get the upgrade soon – or call us to have us expedite your upgrade. 
I'm going to be dumping a ton more information in the blog in the coming days and weeks, so check back often to see what's new. (If you missed the last update with templates and a feature list, you should definitely check it out! )
You can also check out our revamped PHOTOBIZ WEBSITE to read all about whats new :)
I'll see you back here bright and early tomorrow, when I'll show you all of our new templates.