The holiday's over, but we're still celebrating with a ton of FREE new features, tools, layouts, and goodies for your account.
There's about 10 big ones in all, let's check them out!
Way Better (Easy!) Form Styling
Before, if I wanted a custom form I had to code in a "hack" to get the look I want. This was a bummer for me, but an even bigger bummer for you fine folks who didn't have the hacks.
Now you can style your form any way you want! There are even some pre-styled templates for you to pick from so you can get started fast.
Custom backgrounds? Yes!

Pre-styled templates? Yes!

Rounded boxes? Yes!

Custom colors? Yes!

Do I have to code anything? No!

Really?? Yes! 
2x Faster Image Loading!!
This is a big one that many of you have been asking for: faster image loading on the blog.

Our testing shows that images now load at least twice as fast.  So if you who want to post 557 hi-res photos on your blog, go nuts! We can handle it.
Custom pages
This. Is. Huge.
Custom Pages use the drag & drop builder, so you can pop in text, images, buttons and more as you like – on and on into infinity until you've built the perfect page.
What does this mean?
You're no longer bound by the laws of page design, space or time. If you want a long page, go nuts. You can even build one-page sites, something a lot of customers have been eagerly waiting for.
Official "Squiggly" Online Signatures
& Printable Contracts
Forms are for more than just "Contact Me." When you use Forms to make Online Contracts, you can keep all your business documents safely organized and always within reach.
To help your online contracts look extra official, we've added an online signature option that turns plain typed names into fancy John Hancocks.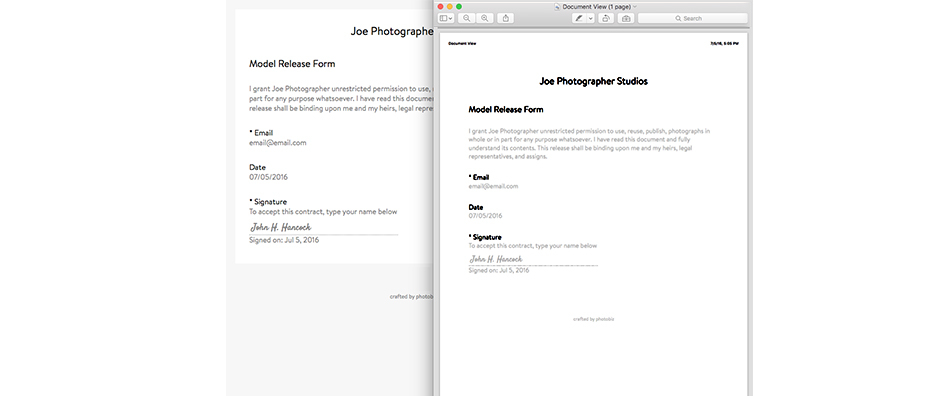 Then, you can print out the contract for safekeeping in your underground vault. Take that, Skynet.
How To Do Online Signatures and Print Contracts >>
"One-Click" Blog Posts 
This is it – the fastest way to blog ever. When you make a proofing gallery, marketing email, landing page or form, you can share the event to your blog.
Write your title and a few words about your event. Your post will include the cover image or a cool collage from your gallery.
Seriously, show me a faster way to blog and I'll swallow my keyboard.
"Stack Mini" Image Layout
The new blog builder is great, but if you're displaying a portrait in "stack" layout, sometimes the model's face would be bigger than yours. Not great.
We've come out with a new image layout called "stack mini" which is just like the stacked layout but, well, smaller.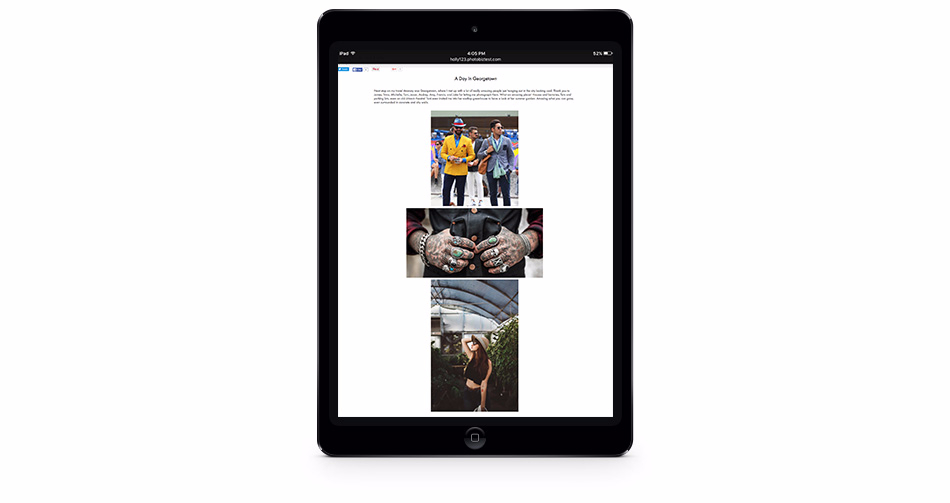 Portrait Proofing Layouts
A picture says a thousand words. Now they can say 'em taller.
Mobile Menus
There's a new mobile menu option – now you can choose between side and top menus to create a mobile look that works best for your site.
Whew! That's a lot of updates. What do think? If you need any help, call us or check out the support articles linked above. We're happy to help you learn how to implement all these new features into your site.
What's your favorite new feature? What would you like to see in the future? We've got a lot more updates cooking now, and we're looking forward to giving you even more powerful tools in the coming months!

Thank you for reading, for suggesting improvements, and for being a great PhotoBiz customer! All this is possible because of you. So, thanks! And keep up the good work :)