We've previously covered how order fulfillment with PhotoBiz Proofing gives you full control over your business. You can use any combination of print labs and vendors you prefer to be sure that the product your customers get in the end meets your quality standards. You also can do this and get paid quickly with no commissions. One question that I get quite often is: "What does an order look like?"
To demonstrate what your orders for different packages will look like, below you can find a sample order, complete with a la carte prints, a multi-pose package, a digital print download, and a photo collage product so you can see what you'll get in your inbox as well as what your client receives as a receipt for their purchase.
Order Details
The first section of the order notification email has all your branding. Your logo, address, phone number, and website will appear in the top section of the order. From there, you'll find all the details about the order including the order number, when the order was received, the shipping method they selected, and how they paid you. (For the sample below, I selected an offline pay by check method.)

The next section showcases all the things your customers have purchased from you. The order of these items will be the same as the order in which your customers added them to their cart.
Here's how they will appear:
A La Carte Prints

You'll see all of your file names, thumbnails, quantity, pricing, and totals shown with the order. If your client has purchased a digital print, it will be included with a link to download at the bottom of the receipt along with any other digital items.
Packages
You have the flexibility to sell packages with your Proofing galleries, including both physical and digital packages. The order form breaks these packages down so you can easily see what's been purchased from you.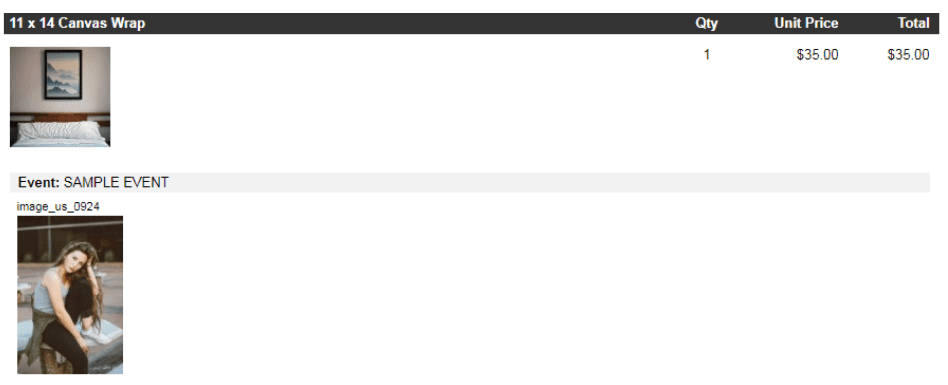 Here's how your Digital Packages will appear. (Active download links are available with the receipt once the payment has been processed.)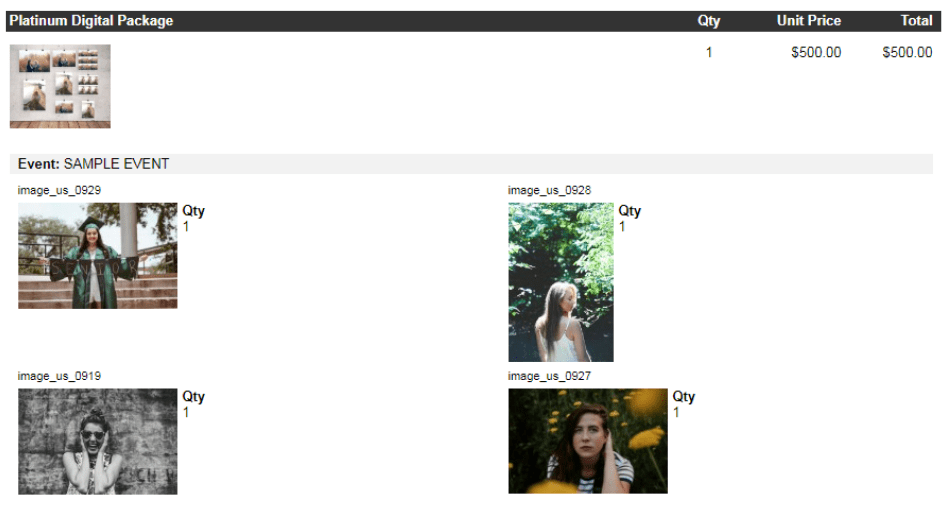 Products

Any products that your clients have ordered are included along with photos of the product and any associated photos that your clients have chosen to use. This order has an 11 x 14 Canvas Wrap as an example.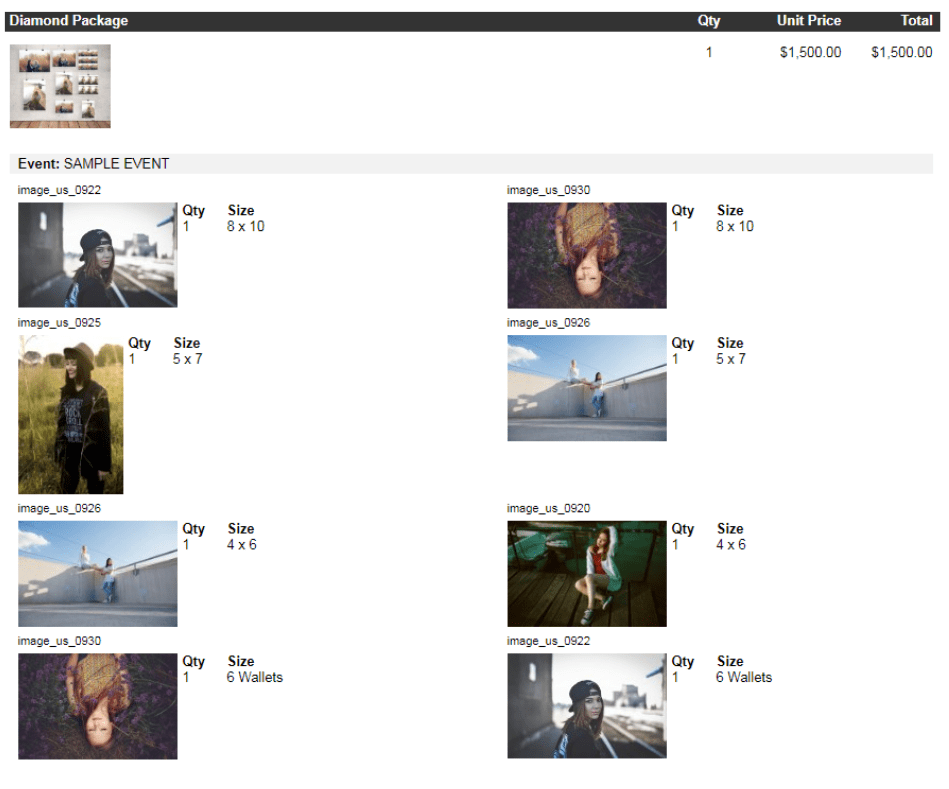 Digital Downloads
At the end of the receipt, the links to any digital prints or products that have been purchased and paid for will be available to your customers to download the files with no extra work for you.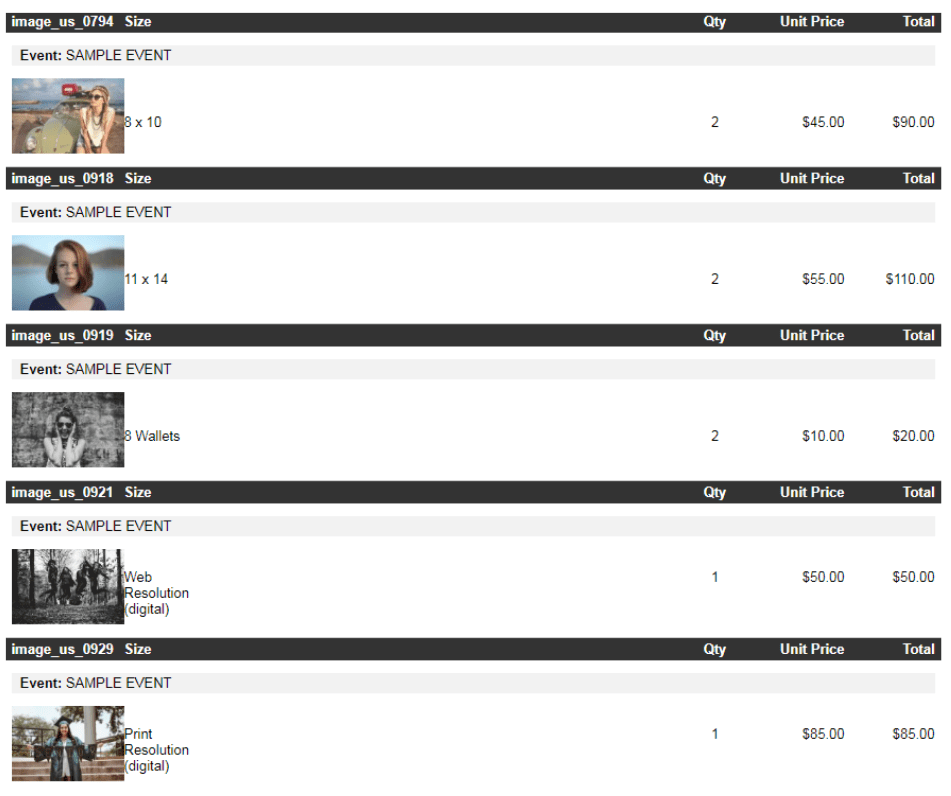 Order Totals & Custom Thank You Message
The very last part of the receipt is your Cart Total, Shipping Costs, Sales Tax, Subtotal, and Total Sale information. You also have the ability to put in a custom message to your customers to thank them for making their purchase with you.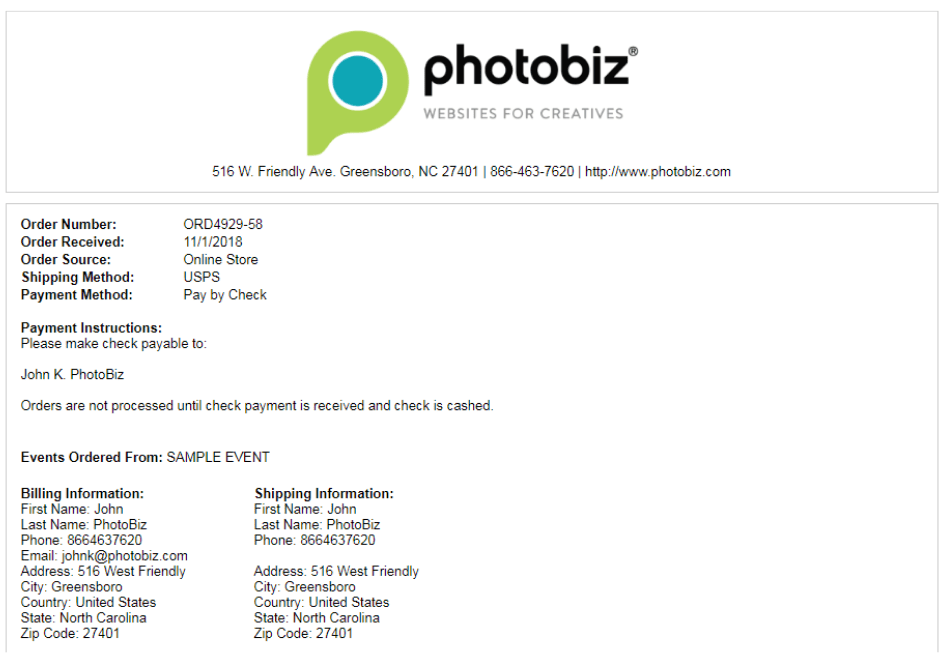 The order notification that you receive and the receipt/confirmation email your customer receives contain the same information so you know exactly what they ordered from you and they have a fully branded receipt for their records. Once that notification has come in you have total control over where you go from there in terms of how you fulfill your orders.