PhotoBiz 8 is our best website builder yet! It's designed to be supremely flexible and intuitive, making it easy to create stunning, modern designs with no code at all.
We've added super cool TUTORIAL VIDEOS & ARTICLES to the builder, so you can always get some help if you're stuck. Just look for this button: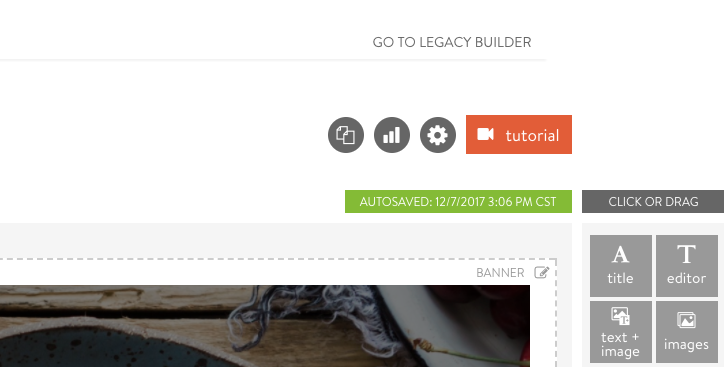 There are so many cool things included with our new builder – and I'm going to tell you all about them! But first, take a look at Hemingway & Rockwell, two new sample sites that are built using PhotoBiz 8.
These sites are crammed with new design features & functionality that you didn't have before. Click around to see what's new!
Brief Feature Rundown of PhotoBiz 8:
- Drag & drop, block-based design
- Simplified & streamlined interface
- Put any block on any page
- Portable mini-galleries, featured posts, forms, shopping & more
- Fully mobile repsonsive
- 2 new kinds of slideshow layouts
- Cooler captions on images
- Faster loading
- Super expanded footer can be minimal... or HUGE!
- Footer can have badges, buttons, forms & images
- Image, color, & video backgrounds
- Add live text & buttons to banners
- Video banners on any page on any template
- Write blog posts on the app
- Copy any page or blog post
- More layouts & options for everything
- Any image can have parallax
- Fine control on padding & site styling
- Cool overlays for text + images
- Enhanced list items
- "Load More" feature
- Site Links: buttons or text at the top of your site that let visitors click to call, visit pages, book you, or just give info (like your location and phone number)
- Enhanced SEO & tracking options
- Add alt tags to images
- Use friendly URLs
- More new templates on the way!
... and way, way more! Lookout for another announcement as we officially launch on Tuesday, January 9th.
We're rolling out the update in waves just to make sure there are no major problems for current clients. If you want to be one of the very first to get PhotoBiz 8, you can sign up here to be an early access member. You'll jump to the front of the line and get it ASAP! 
BE ONE OF THE FIRST TO GET PHOTOBIZ 8
Thanks for reading more about PhotoBiz 8! We're all really excited about it, and the team has been tinkering around with the new builder getting ready for launch so we can help you transition. We're finding it really easy to build extremely custom looking designs using no code at all. We love this new builder and we think you will, too. 
If you have any questions or want to get priority access to PhotoBiz 8, drop us a note or call 866-463-7620!