Hey, friends!
Big things are coming. And when we say big... we mean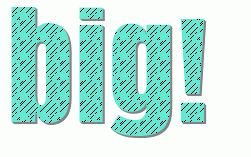 We wanted to keep it a secret. But because we're buds, here's a teeny taste of what's coming up:
Our developers and designers have been thinking about the future of PhotoBiz. Like elves all year, they have been tinkering and programming, designing and perfecting... We listened to your feedback and designed a brand new PhotoBiz we are proud to introduce to you very, very soon.
The first major update is coming next week, and it's a game-changer for Ecommerce. (Folks who sell photos online are going to love it ;)
The second update is HUGE, and it's coming January 9th. Right now we're testing out the bells and whistles, squashing bugs, and wrapping it all up so it's beautiful and ready to go in the new year.
We're so excited! And we think you'll love it too.
Thanks for being awesome and sticking around with us. We can't wait to show you what's next.
xoxoxo,