Some people are taking on COVID-19 by helping others who need it. This includes Kat Mack, a photographer from Houston, Texas. "My parents had a [photography] studio while I was growing up," Kat exclaimed. "So I have always been 'exposed' to photography!" Kat started her own photography business in 2007, specializing in on senior photos. In the last 13 years, she has focused on growing her business, but that focus has recently changed.
As 2020 began, Kat was happy with her business and was picking up old hobbies, like sewing. Years prior, she started working on a quilt. Sewing was something she liked to pick up and do for fun and also something she wanted to be better at. "I had a sewing machine that I hadn't used in 20 years! There was no plan to do anything more than a little quilting," she said. 
In January, she restarted that quilt project, and in March, she went to meet with her Aunt Donna, a master seamstress, in Chicago to finish her quilt. As she finished the project and returned home to her studio, the murmuring of a virus started to spread in the news. Kat explained, "Information about the virus started to creep into my news feeds sometime in February. I took a trip to Chicago in March to see my family. Being there, that's when I realized that this was serious."
To stay safe, Kat and her husband decided to take a 'staycation' for a month in March. But life continued changing, not only for her but for millions of others. As states suddenly started going on lockdown, businesses closed, and more people got sick, Kat found herself out of work, like many photographers and other small businesses. In a few short weeks, the global pandemic engulfed the United States and other nations.
"I soon realized that this was not only serious to the community from a health standpoint, but also to all the small business people as well," she shared. "Who can go 4-6 weeks with zero income? I am fearful that there will be many, many small business people that will lose their livelihood due to the inability to run their business."
On March 24th, she had an idea to help people. She woke up, walked over to her sewing machine, threaded her machine, and started making face masks. This was not a new business idea, but a calling to support her community. "My community needed a service I was able to provide, so I happily jumped in with both feet!" she explained. "It wasn't even a second thought."
As she researched face mask patterns to make in mass quantities, she made her first bundle of masks, thinking it would be enough to help friends, and family nearby. She posted photos of them on her Facebook page, asking if anyone wanted masks. She offered the masks for free, and welcomed donations to cover the costs of the materials. 
A few days passed, and then her Facebook notifications were suddenly full of new messages requesting masks. Next thing she knew, her efforts went viral. News stations reached out to her immediately, trying to tell her story, and orders started pouring in before the news segment was done.
"After 3 hours of fielding questions and handwriting orders, I realized that there was no way I could keep up with this," shared Kat. "I realized that at my fingertips, I had everything I would need to streamline this process and keep me at the sewing machine where I could keep up with the mask requests." 
What was it she had at her fingertips? Her photography studio website, built with PhotoBiz, which includes ecommerce tools. With the help of our Passionate Support®️ team, she quickly added pages to her photography business website to take mask orders.
"I made a form in [my] PhotoBiz [account], placed it on my site, and gave instructions on my homepage. Then I made a donate button, and started to promote [the masks] with social media," she shared. Within an hour, she had her website set up to accept mask orders and donations to fund the project.
"The customer support team at PhotoBiz was outstanding in helping with some of the little details and setting it up. she shared. "Honestly, PhotoBiz made this process so incredibly easy! I just can't say how much I love PhotoBiz and how amazing the support is!"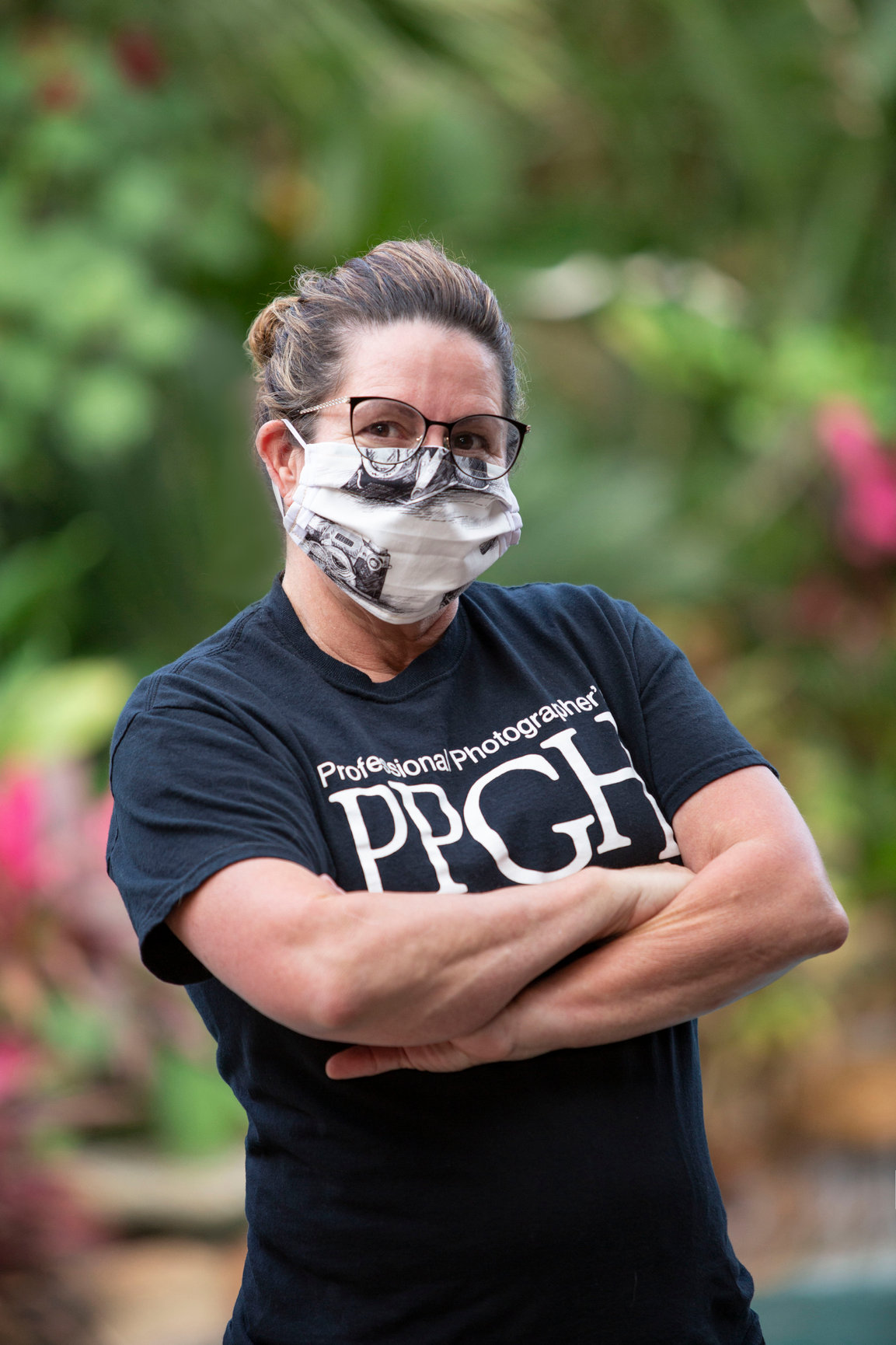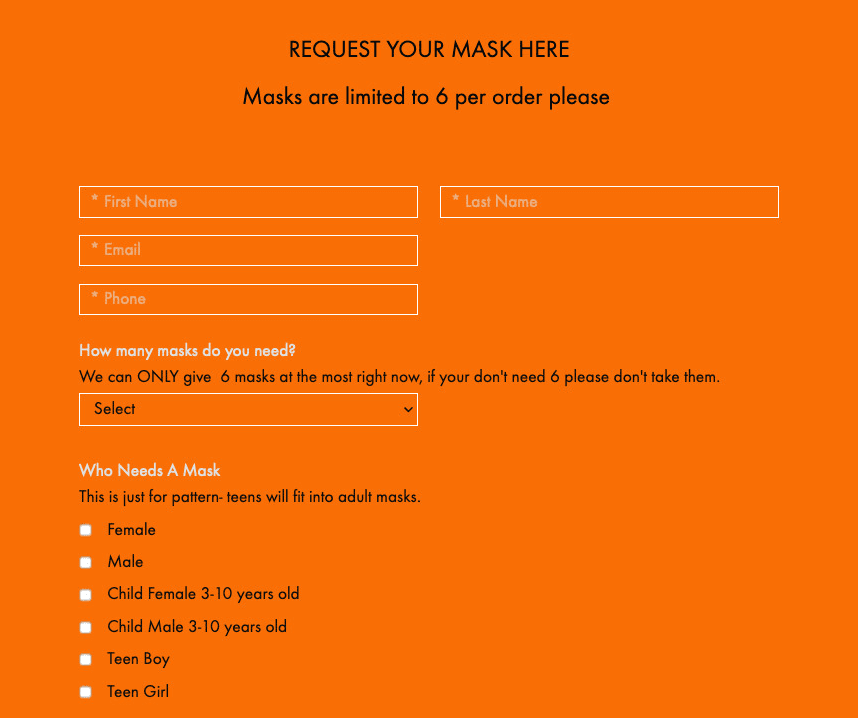 In the first five days, Kat made 692 masks. "I was only sleeping a few hours per night," she explained. Exhausted, Kat continued her work and " soon realized it would take a village," she shared. 
"My husband jumped in to help me by managing the order form on PhotoBiz and getting the shipping labels figured out. By Friday of that week, we had to make a YouTube video explaining that the need [for masks] was overwhelming, and I would need to set up a waiting list so that I could get some help and get caught up. By Sunday, we had to put a hold on the ordering altogether."
It didn't take long for her "Dream Team" to assemble. A group of 12 friends and volunteers joined her mask making efforts, including a young girl who recently attended a sewing camp. Kat said with joy, "My heart swelled with pride that this little girl would be so selfless. Along with school and online dance classes that last three or more hours, she has managed to sew over 200 masks to date. This kid deserves a medal!" 
To date the team has made and distributed more than 2,000 masks. And they aren't done yet. Kat and her team are continuing to create masks for their community. 
When it comes to funding the project, she said, "My husband and I have personally funded 99% of the project. We did not feel right about profiting from a pandemic situation. The masks that I make are given at no charge, but we ask for a donation if the person is able. We have been very blessed with gifts, and all the costs have been covered. Any excess contributions will be given to our local food bank, The Houston Food Bank, that has also been amazing with their support to our community in Houston. Our food bank is one of the largest in the USA, and we will be there to help them as well."
Kat has been overwhelmed with support from friends, family, and people across the nation. She shared that "One of my quilting friends who lives in Virginia sent me a little trophy that said 'mask makers!' I will be taking the trophy to all the dream team members with their t-shirts so that we can [each take a turn enjoying the trophy, and] kind of Stanley Cup it to one another!"
She is glad to be able to use her skills and resources to help her community and plans to continue her mask making efforts till they are no longer a need. Once life returns to normalcy, she will once again pursue her photography business. 
"Who would have thought that in just a few short weeks, I would be embarking on a journey, enlisting a team of volunteers, and making over 2,000 masks," she shared.
Kat would like to thank a few people:
A big thank you to my Aunt Donna for giving me the sewing skills I needed to pull this off. To my husband, Bob, who has been my most significant support and to PhotoBiz for providing a platform for making this happen.