Malleret Designs (based in Austin, TX) specializes in creating spectacular floral and event designs for galas, weddings, corporate events, and luxury social occasions. Their mission is to create stunning and memorable moments for high-end clientele the world over.
The work of Marcela Bogado and her team at Malleret is simply stunning. But the company's older portfolio website left a lot to be desired. It had been several years since her design had been updated, and it was time to bring Malleret's online style current with modern tastes.
Marcela's big goals were to create a design that is mobile responsive, includes beautiful scrolling features, and gives customers a better glimpse into the gorgeous design capabilities that Malleret has to offer.
Marcela partnered with PhotoBiz's in-house website designer, Ashlie A. to create a new design every bit as impactful as her beautiful event designs.
"Technology has changed, and we need to constantly attract and maintain clients with an updated website. Our company has changed, too, and we wanted our website to reflect our high-end, luxury designs and services."
INSPIRED DESIGN
Ashlie and Marcela worked together to bring Malleret's new vision to life. Their work included a complete redesign on PhotoBiz's updated site builder platform and a brighter, more modern style with plenty of fine details. The result was a sparkling clean look that was a cinch to use.
"There are so many things I love about this design, but my most favorite are all of the small design details. Those are the things that push any design to the next level." – Ashlie A, PhotoBiz Website Designer
Ashlie included plenty of polished design features that brought the level of Marcela's new website from good to awesome. For example, the fine transparent text overlay on these image blocks.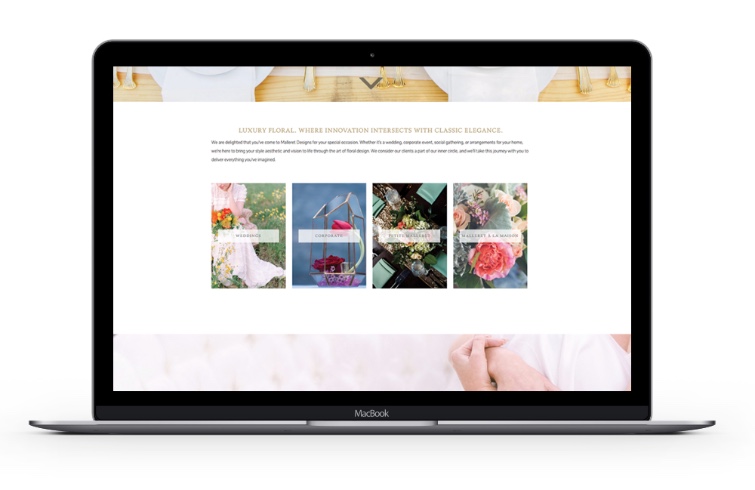 Or the clever use of whitespace, creating an elegant, floating container between two FX banners.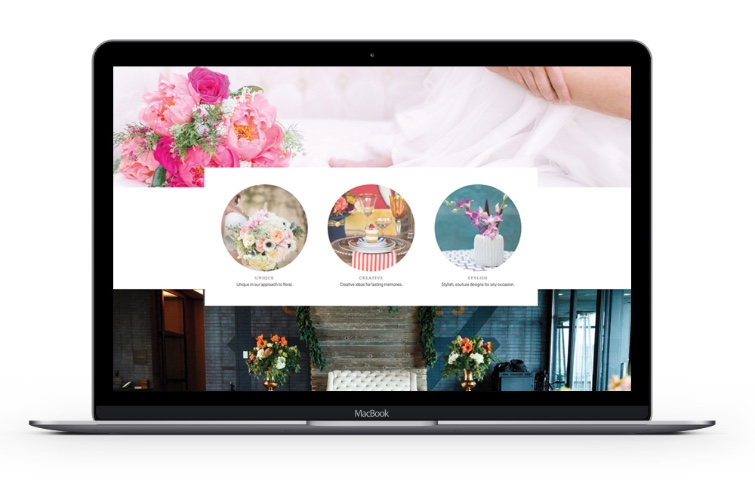 Ashlie notes that this is one her favorite designs.
"It was so exciting to work on a site like this because it's the style I love most. I work with different clients every day, but I love a soft, clean, elegant look. That is my absolute favorite, and that's what Marcela wanted."
"I also love how there's both soft and hard edges throughout the design. It's the little things that really push any design to the next level!"
– Ashlie A, PhotoBiz Website Designer
THE PERFECT TEAM
Malleret is a design focused company, and they knew what they wanted from the beginning. Marcela provided many examples of designs she loved, and Ashlie was able to incorporate her favorite elements into her new website.
Marcela and her team worked in partnership with Ashlie, with open feedback between them. Marcela notes that communication is key to creating a beautiful design quickly. "The important thing is to be flexible, listen, and work us a team. We did that and the end product showed that."
"Our team worked very closely with Ashlie. She is amazing. She listened to our story and what we were looking to achieve with our design and she did fantastic work!" – Marcela Bogado, Malleret Designs
Ashlie had nothing but praise as well for the Malleret team. "Working with Marcela was such an enjoyable experience from the get-go. When we first spoke about her vision for the site, I felt immediately connected with her and what she wanted for so many reasons. The best part was receiving that first email from Marcela and her team hearing how much they liked the design and how excited they were! At the end of the service, they ended up sending me a custom bouquet of flowers as a thank you, and that was really, really special."
The Malleret team was also thrilled about their design, which presents their company as the leader they are in their industry.
"The feedback from our clients, vendors, and B2B company friends was really positive. Some colleagues have also copied our design! This is a perfect example of us creating a new standard for our industry, and we were proud of doing that with PhotoBiz."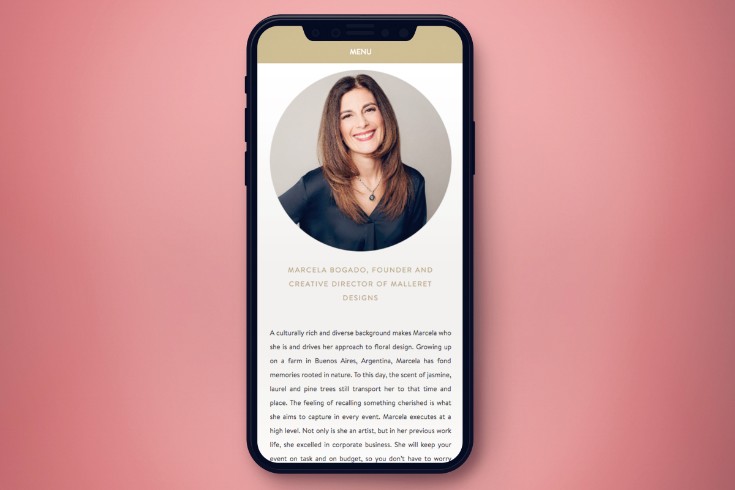 We are so excited share with you the new Malleret Designs website and are honored that they chose the PhotoBiz design team as a partner!
If you're interested in finding out more about PhotoBiz design services, visit us online at photobiz.com.