As a service provider and photographer, you have access to one of the most diverse networks out there. The individuals you photograph span every imaginable industry. Utilized the correct way, you can take advantage of each and every one by adding new connections to your vast network with each shoot.
LinkedIn translates to more headshot sales to you and betterment of your business in a few ways. Here's how to use LinkedIn effectively to increase your brand recognition and get connected to key decision makers.
Build your page to impress potential clients.
When you create a page on LinkedIn, you can post weekly updates or examples of headshots done in the past. This will keep your connections appraised of the work you're doing and in the forefront of their mind should their company be looking to hire a photographer. Don't overdo it, once a week or biweekly works great. The increased referral traffic to your website will certainly help your search performance and grow your base as well.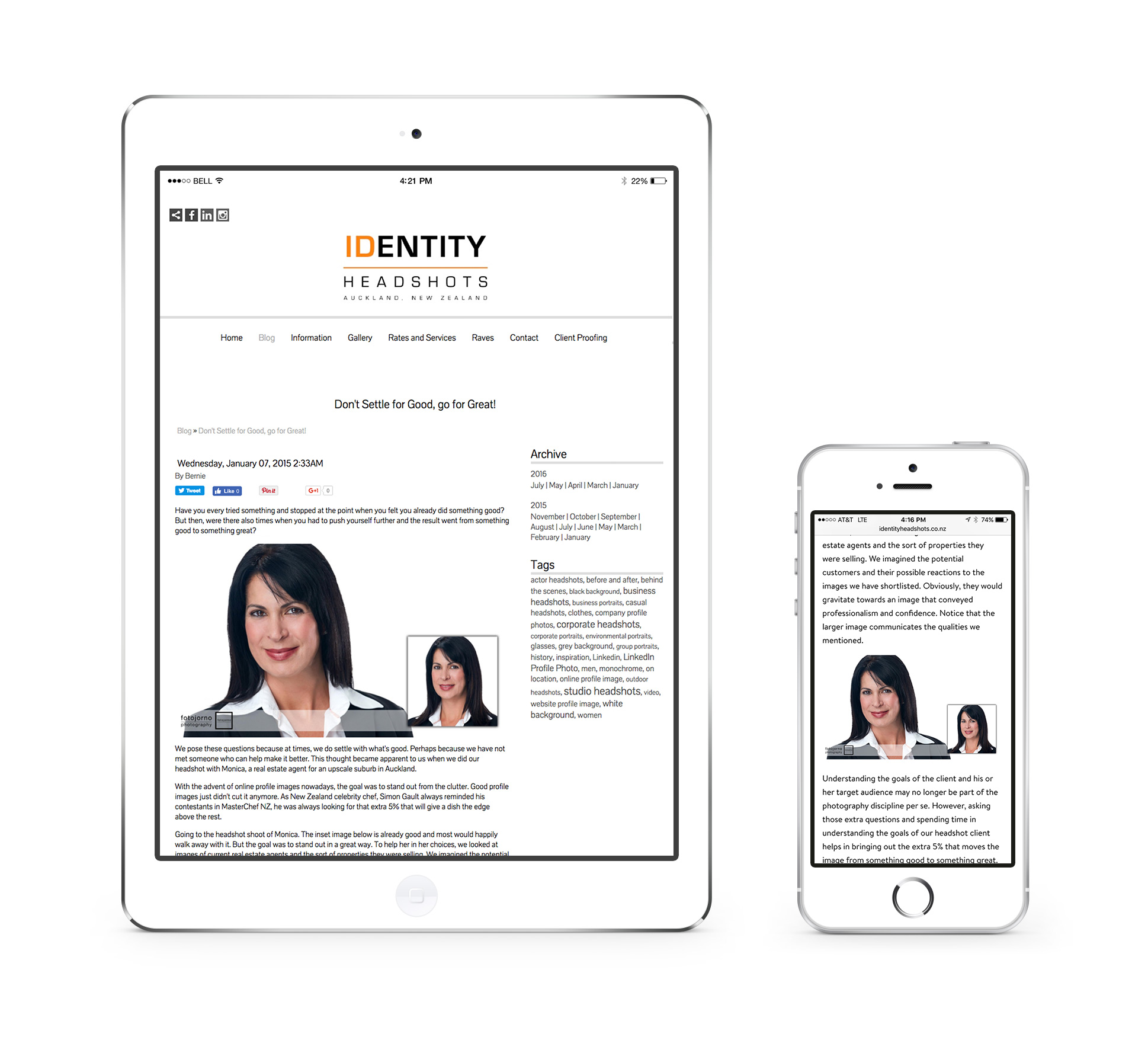 Blogs are ideal for sharing on LinkedIn. Identity Headshots posts insightful blogs that not only show off their gorgeous images, but also include valuable insight into their process. Check them out!
Expand your network to reach new business
Send a few invitations to connect each week to anybody you want but specifically, office managers, managers and owners of professional service businesses in your area. Make it light: "Just reaching out to connect and grow my network. I'm a photographer in X area; please keep me in mind if you or anyone might be looking for new headshots."  Maybe even check their website "employees section" to see if their headshots could use some updating – but don't say as much to them!
Network to reach key decision makers
Look for opportunities to land large shoots, and for the people who organize and pay for them. Most likely it will be an office manager, lead manager or even the owner depending on size of the company. These are not individuals who are browsing the web 9-5 or incessantly checking their cell phone social media. (Not productive ones at least…). I'll go one step further and say that most of the people you want to be talking to for corporate Headshots are not following your current clientele on Facebook, Twitter, Instagram, or Snapchat. I'll wager they are connected on LinkedIn, though.
You can find just about anyone you want to find within a specific business through LinkedIn. You do not need a paid account, either, with features like Introductions and advanced search options available to all free accounts. When you send a message to a connection on LinkedIn, they do not need to be logged into the site to receive it or even to reply – it can all be done through their email.  When you ask to get introduced to someone who is a second connection, the introduction comes to them from someone directly in their network and has the ability to add a personal note on top of yours.
Users and networks on LinkedIn come with an inherent want to help out. You're not seeing daily or weekend personal updates. These are work & professional connections. When one reaches out for assistance – you'll want to help too. The beauty of this is you never know when or where you might need a hand professionally. And when you're known to your work network to help, they'll want to do the same. Don't just use it as tool to better yourself, help the next one down the line when they ask. (Just as long as it's not a prince of a foreign land wanting to bequeath you their fortune to avoid a tax!)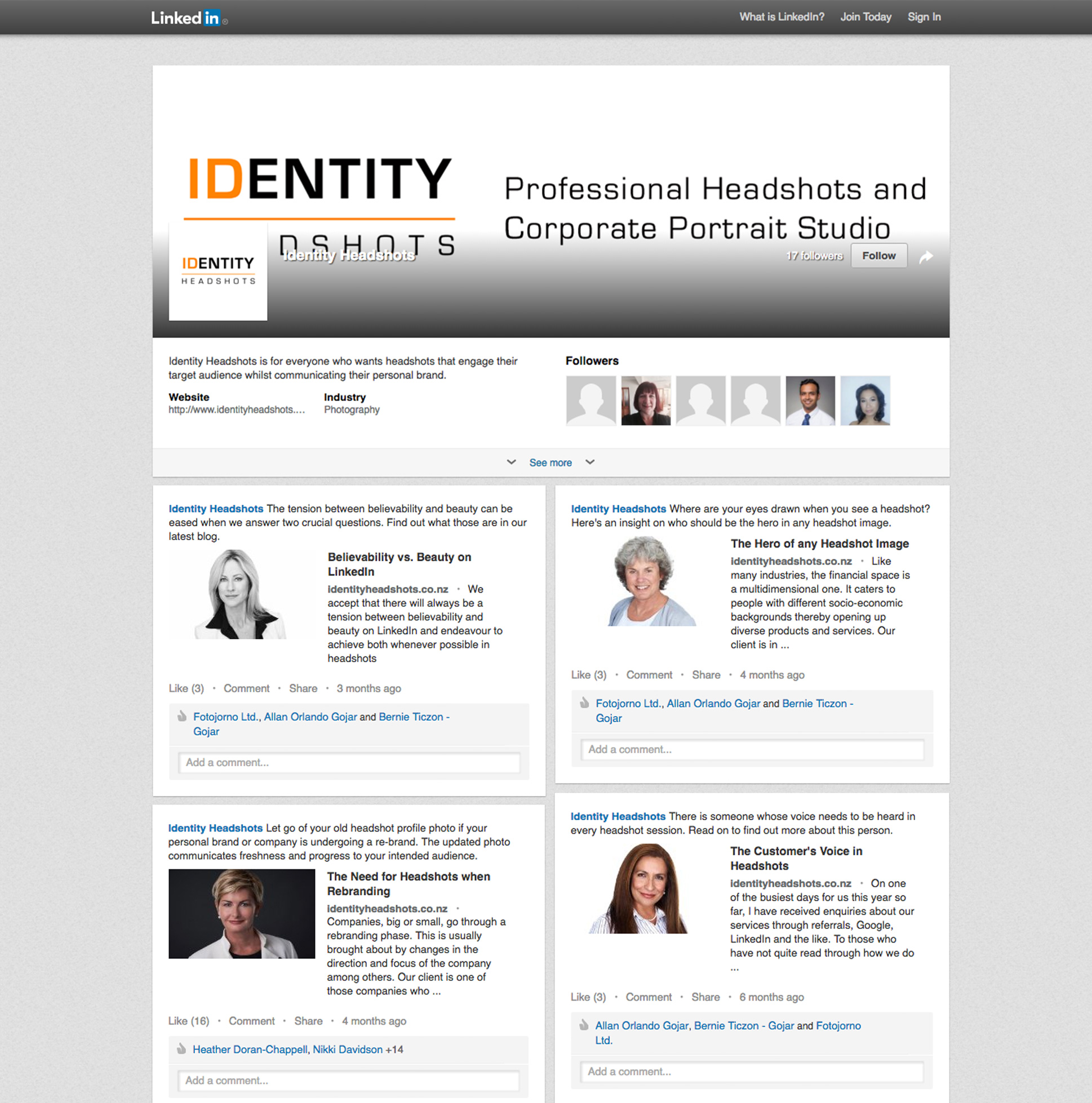 Build your following by sharing interesting work and updates. An active page shows that you're a busy photographer, and increases your ability to attract new clients. Identity Headshots posts often – sharing blogs, insights and work.
How To Win More Business With Effective Outreach
Write down business names you see after driving or Google law firms, cpa firms, heck – all of them. Then use the advanced search option in LinkedIn. Type in the company name or a keyword and zip code while checking all the relationship boxes (1st, 2nd, Group, Everyone else).  This gives you a list of everyone in your direct plus expanded network who works there. If it's a manager and they are a first connection – send them the note. If it's a manager and they are a second connection – use the get introduced feature. You've now done some free marketing in the span of 5 minutes to direct decision makers in an entity. And because it's through LinkedIn, they get that message in their email inbox and might also be a little more willing to help coming from someone in their professional network.
I'll end with a personal example of how I've used it recently. A company was going out of business in Minnesota and a connection wanted to get in touch with the owner. I completed the steps above with the company name and found the owner. He was a second connection to me via a contact from 6 years ago. I sent my contact a note asking how he knew the owner and if I could get in touch for a business proposition. My connection works out in the same gym as said owner. He provided his cell and an introduction. I called, made the introduction and they were off to the races. Just like that a business owner in Minnesota was connected to one in the Carolina's for direct negotiations due to a contact I made half a decade prior.
Powerful. Quick. Easy.
Editor's Note: Special "Thank You!" to Identity Headshots for providing images for this article. We look at a lot of blogs and websites, and they're doing a truly excellent job publishing insightful content and building their brand on LinkedIn. Identity Headshots is based in Auckland, New Zealand; if you're in the area and need a stellar portrait, give them a ring!