Square is the merchant of choice for many photographers taking in-person payments and for selling online. And within weeks, Square will be coming to PhotoBiz 8 Websites, Proofing, and Forms!
In addition to the many, many merchants we partner with, you will soon be able to start selling with Square!
This will be great for business owners who want to bridge their online and offline sales. Square offers a low simple fee structure and does not charge any extra fees to use their platform. You even get a free card swiper to make taking in-person payments easier.
Here are some FAQs about working with Square and what's coming next!
MERCHANT RATES TO USE SQUARE
There are no commitments or monthly fees, just a simple rate of 2.9% + $.30 per transaction.
That's it—Square doesn't charge sign-up fees, chargeback fees, inactivity fees, premium card fees, PCI-compliance fees, or any other kind of hidden fee. Just start selling!
PhotoBiz will never charge any extra fees or charge a commission for you to sell online. 
HOW FAST CAN I GET FUNDS?
Funds are deposited as soon as the next business day.
CAN I USE A CARD READER?
Taking payments in-person is really easy with Square. You'll get a free magstripe reader just for signing up! Then, you can process cards in-person using the Square app.
IS SQUARE SECURE?
Yup!
Square uses advanced encryption and doesn't store data after a payment has been processed.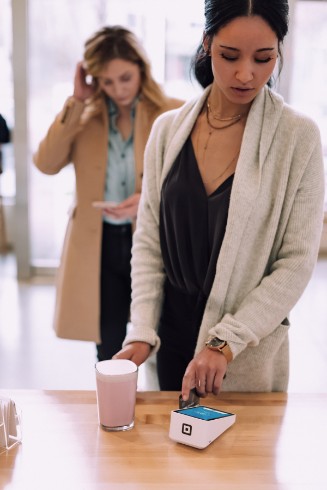 WHAT ELSE DOES SQUARE OFFER?
As a Square merchant, you have access to insightful sales reporting, online scheduling, customer engagement tools, and much more. Square is there for your business and your customers with everything from Chargeback Protection and phone support to data encryption and fraud monitoring. If you're looking for a retail solution, Square also offers POS systems, terminals & registers. 
HOW DO I GET STARTED WITH SQUARE?
Visit squareup.com and register your merchant account! Then, you can connect Square as a merchant in the PhotoBiz Ecommerce tab. 
Please note that only websites using the latest version of PhotoBiz 8 can use Square as an online store merchant.
WHEN IS SQUARE COMING TO PHOTOBIZ?
Square integration is in the final stages of testing, and we anticipate releasing this update within the next few weeks. We will notify customers via email, on our blog, and via social media when it is available!