Beautiful and minimal, our newest website template, Adams features a fresh design that is a great look for newborn, family, fashion, and wedding photography. Adams has a clean and focused editorial style, like something out of a magazine. The wide spacing between images makes an impact and lets the text and images stand out on the page. Let's check out how each page is set up when you first select this template.
A closed-in banner, not running to the edge of the browser window, preview images below the menu allows you to show visitors a sample gallery of your work. Instead of sitting flush with the browser, this closed banner gives the template an elegant touch. The images below the main banner image default to square croppings, giving your photos a sophisticated touch. Then there is space to provide welcome information in the form of text before a button encourages people to view a gallery of images, followed by another scrolling collection of images. 
The footer uses a rich mocha color that complements the rest of the template. The footer is low profile, and provides quick access to navigational links.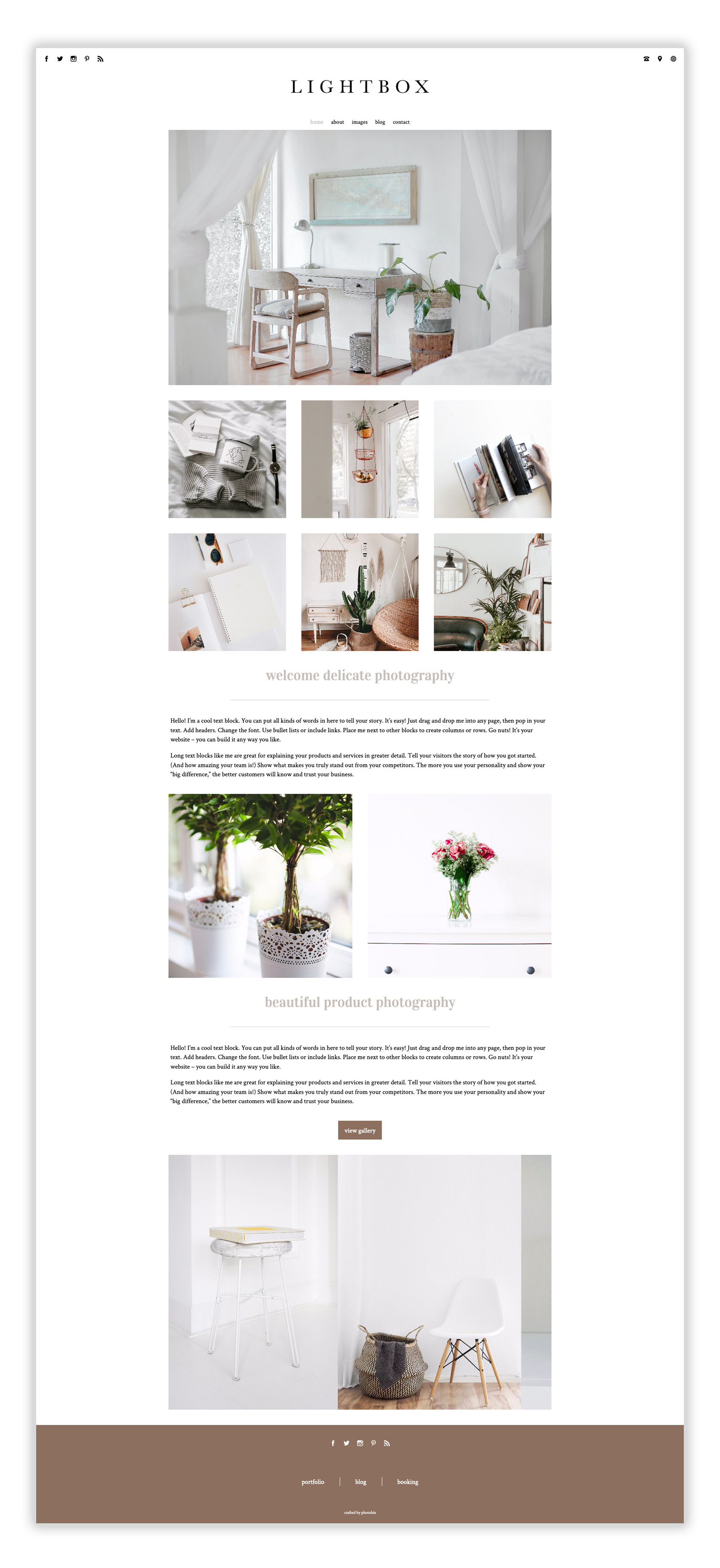 The gallery continues the editorial style of this template by providing space for not only images but also text, to make these pages stand out more as targeted landing pages. This page style allows your work to both be engaging to visitors and easily indexed and searched for on Google and other search engines. The inclusion of text, also breaks up long gallery sections and lets you provide context to the examples you are displaying. Use galleries to highlight your best work and tell people about it.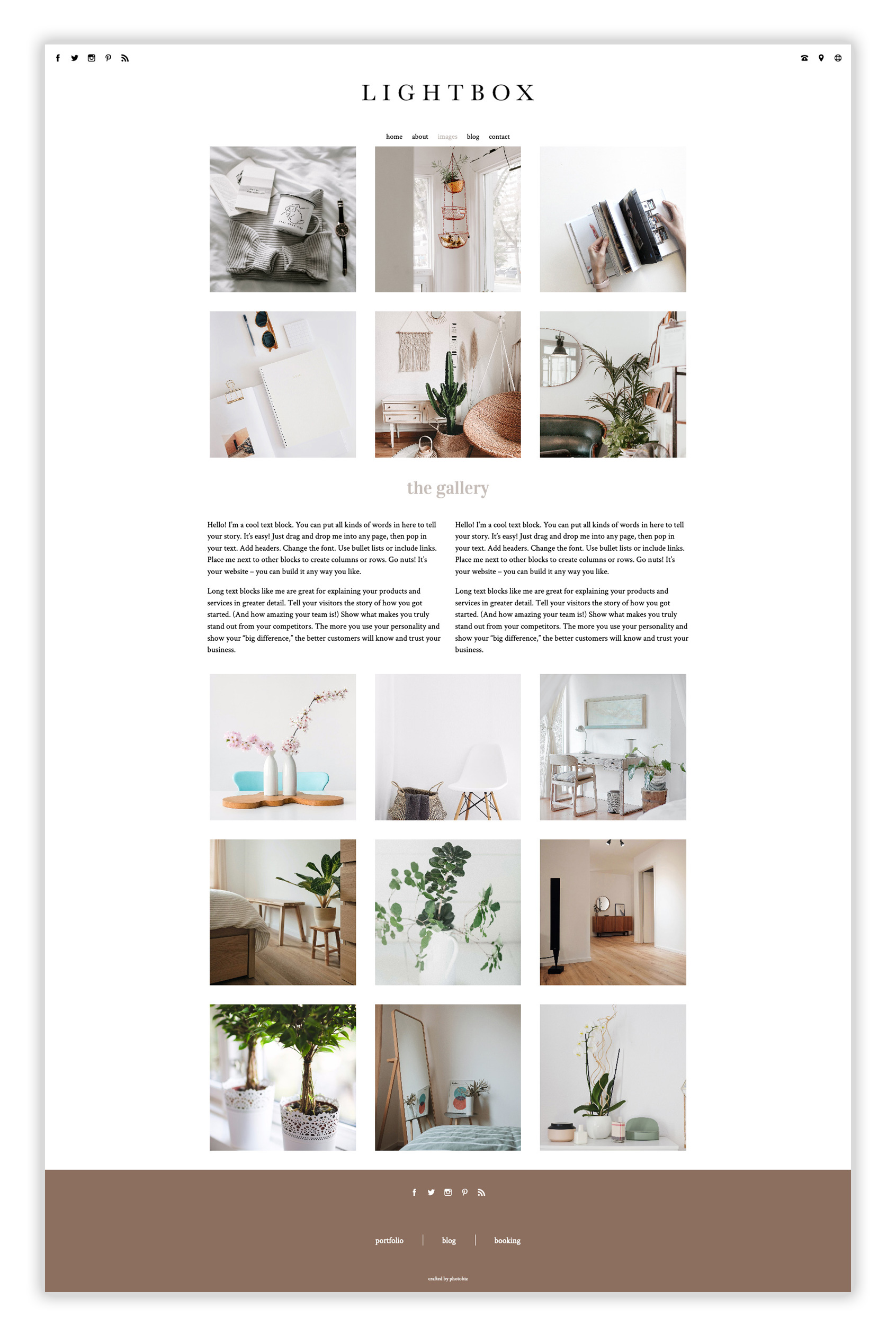 The about page serves multiple purposes by featuring a sampling of your work and details about you and your business. It's also set up to display a form directly on the page to encourage visitors to connect with you – making sure you do not miss a lead or questions customers may have.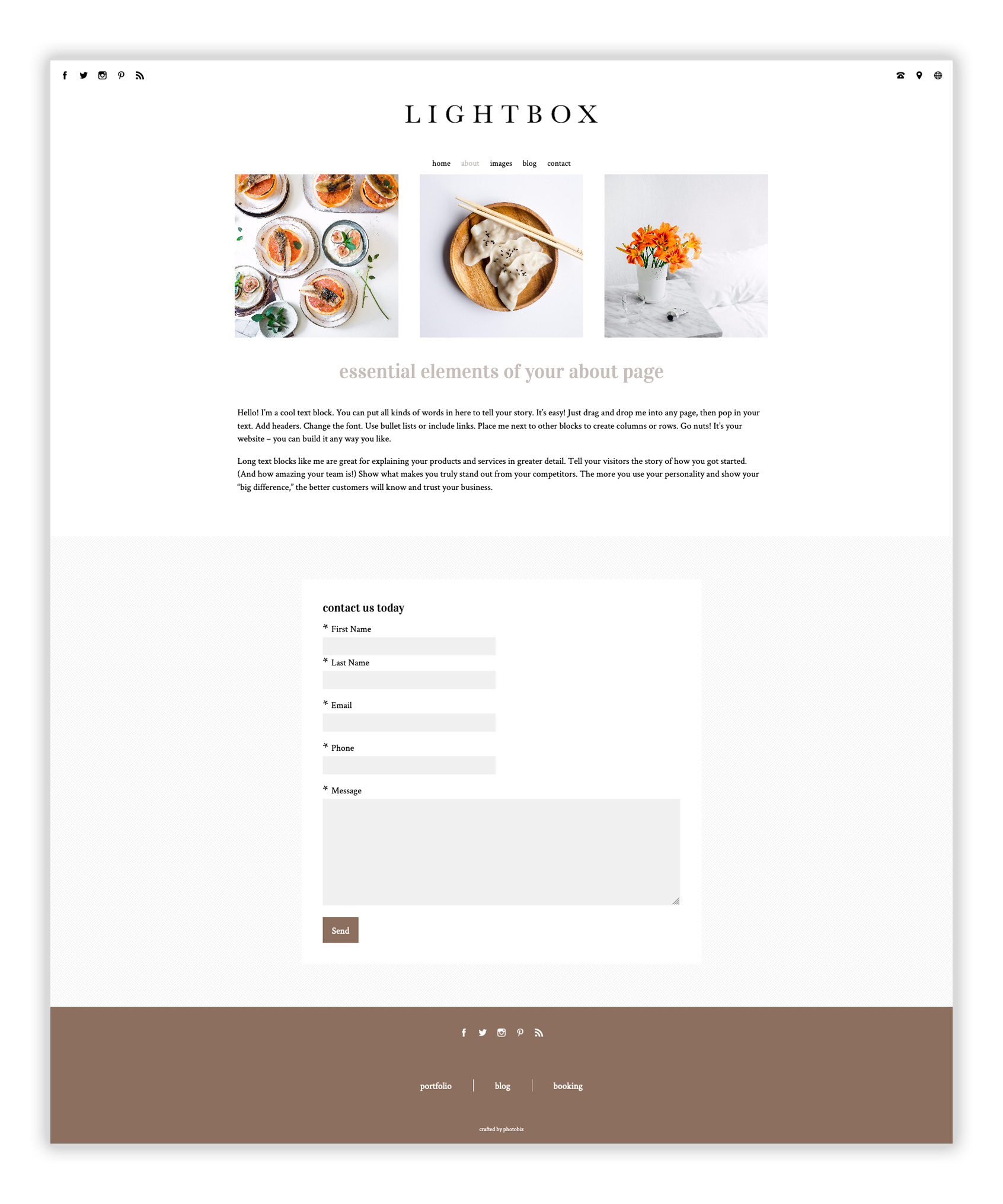 The blog continues the editorial style presentation for the site. The minimal slick design allows articles to be spaced out to let them highlight themselves. Quick and easy to read.
The contact page also includes space to showcase a sampling of your work and easy access to a form to help customers get in touch with you.
Adams is a beautiful and elegant website template for any type of photography. Its subtle details paired with square-shaped photo blocks and compact design enhance your work. 
Interested in getting signed up? You can add this template from the start or switch your template at any time Already a client and need help switching to Adams? Log into your account, click the PhotoBiz Assistant (in the bottom right corner), or contact our Passionate Support® team at 866.463.7620