Looking to build a new photography website? PhotoBiz is a complete, all-in-one platform that includes more essential features to help you succeed than the other big builders. For over 15 years, we've designed online tools that are easy to use and help you grow a powerful presence online.
Our newest builder, PhotoBiz 8, makes it easy to build a robust, professional website with ease. Don't know much about PhotoBiz? Here are 101 features of our platform that make managing your online business easier and faster, all in one place.
1. Professionally Designed Photographer Templates
PhotoBiz templates are designed specifically for photographers to show your work at its best and bring in new clients. Our designs are based around popular and modern website layouts so you can simply plug & play... or easily customize to make it totally your own!
2. Easy Drag & Drop Builder
The PhotoBiz 8 visual builder is simple to use and easy to customize. Add text, images, videos, dividers, shop items, and way more and simply drop them into place. The builder is intuitive and flexible so you can create unique layouts simply.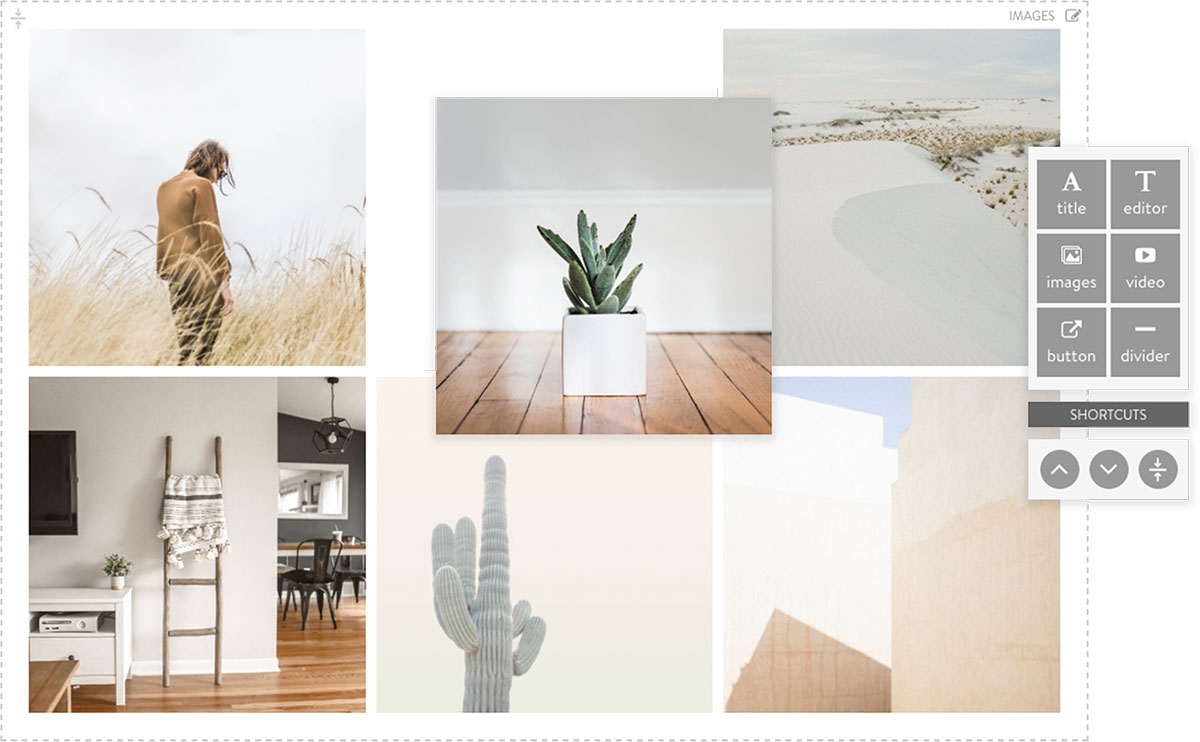 3. Change Templates With One Click
All of our professionally designed templates are available for you to use, and it's easy to try on a new look! You can preview what your site will look like with a new style, then save it to give your design an instant overhaul. All of your content adapts to the new style, and you can customize fonts and colors to make it your own. 
4. Fastest Website Hosting In The World
It's true! PhotoBiz hosting is over 2x faster than Wix, WordPress, and Squarespace! Using Google Pagespeed tools we tested hundreds of real life photographer websites built on every major platform. No other builder comes close. PhotoBiz is ranked #1 in the world for speed and mobile performance!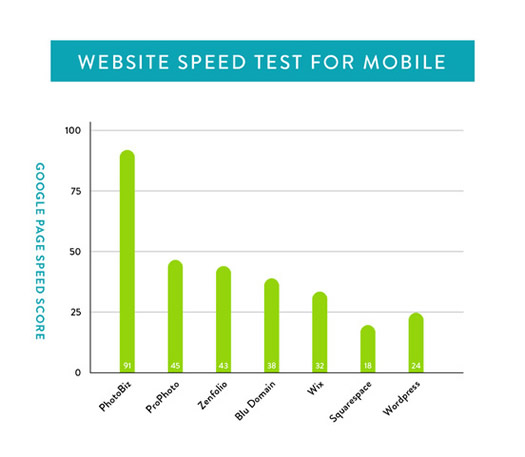 5. Space for 5,000 Files Included For Free
Your account comes with space for 5,000 files of any size. You can add or delete files as needed, and if you ever need more room, you can add blocks of 5,000 files for just $5/month. 
6. Full-Featured Online Store 
Get a complete online store to sell prints, packages, and products of all kinds. You can add options, track stock, and offer add-ons for each product. Upload images of your products and choose from several customizable store layouts. Sell with NO commission fees with a robust all-in-one commerce solution. 
7. Photo Proofing Galleries
PhotoBiz Proofing is the best sales tool for photographers. Share and show client images in personalized galleries that are loaded with tools to improve your workflow. Clients can save favorites, share their images, leave comments, and make purchases from private galleries. Even give clients their own app!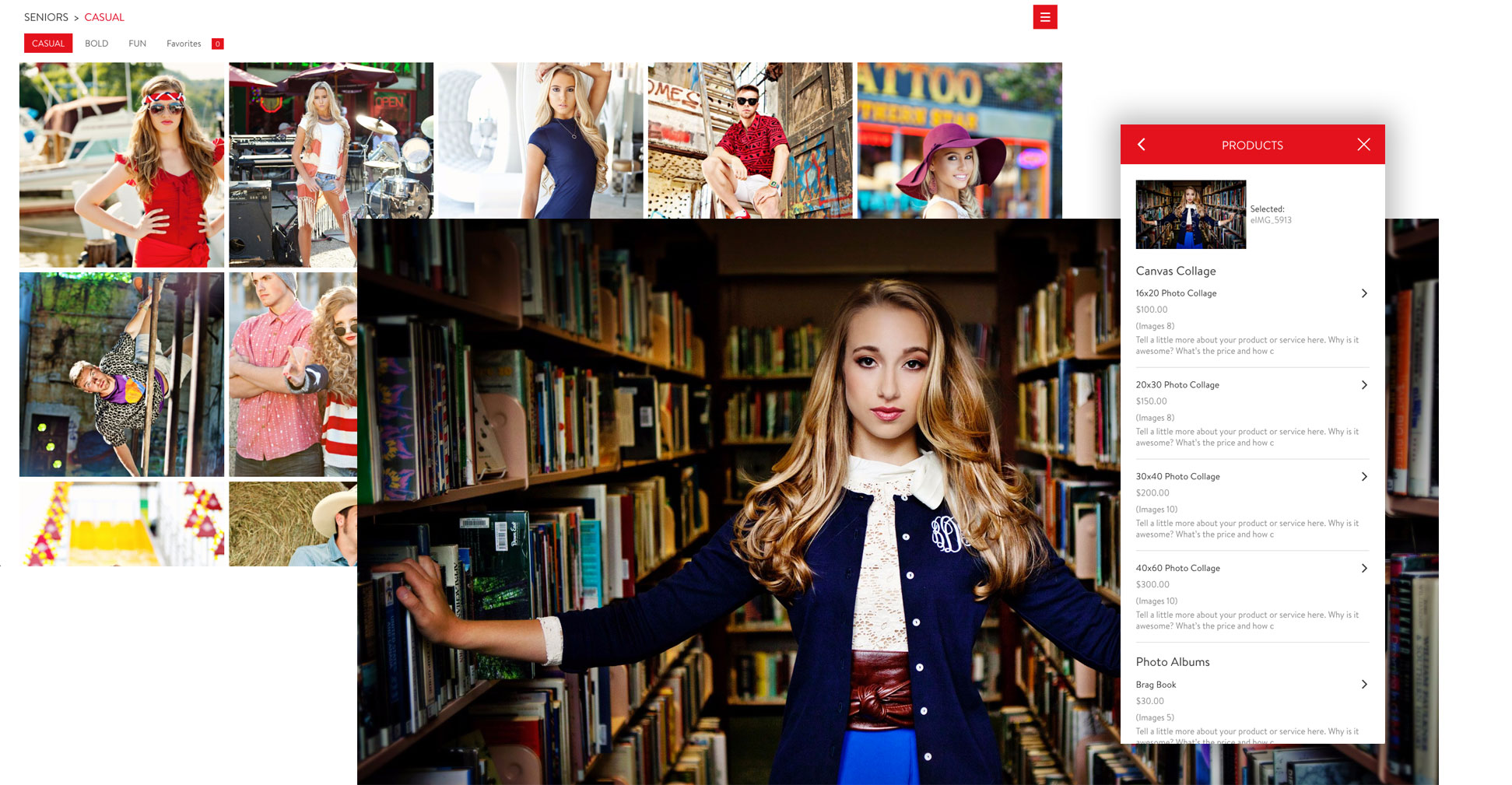 8. Custom Form Builder Included
Create unlimited forms and contracts to run your business better online. Sign-ups, registrations, subscriptions, inquiries, order forms... you name it! Let clients sign digital contracts and submit payment at once. Forms are flexible and set up fast using a drag & drop builder with styling options. 
9. You can Blog, too!
No website is complete without a blog! (Although I might be a tad biased...) Blogging is one of the best ways to bring readers in and keep them engaged with your brand. PhotoBiz includes a robust blog publishing platform so you can write posts, share online, and connect with your audience in one place. 
10. CRM (Client Relationship Manager) Keeps Track Of Customers For You
The PhotoBiz CRM integrates with every aspect of your website to build a customer list from your most engaged visitors.
Whenever someone submits a form, makes a purchase, logs into a gallery, or leaves a comment on your blog, your CRM tracks that user. Access your client database at any time and see their details, or send them marketing messages to keep them engaged with your brand.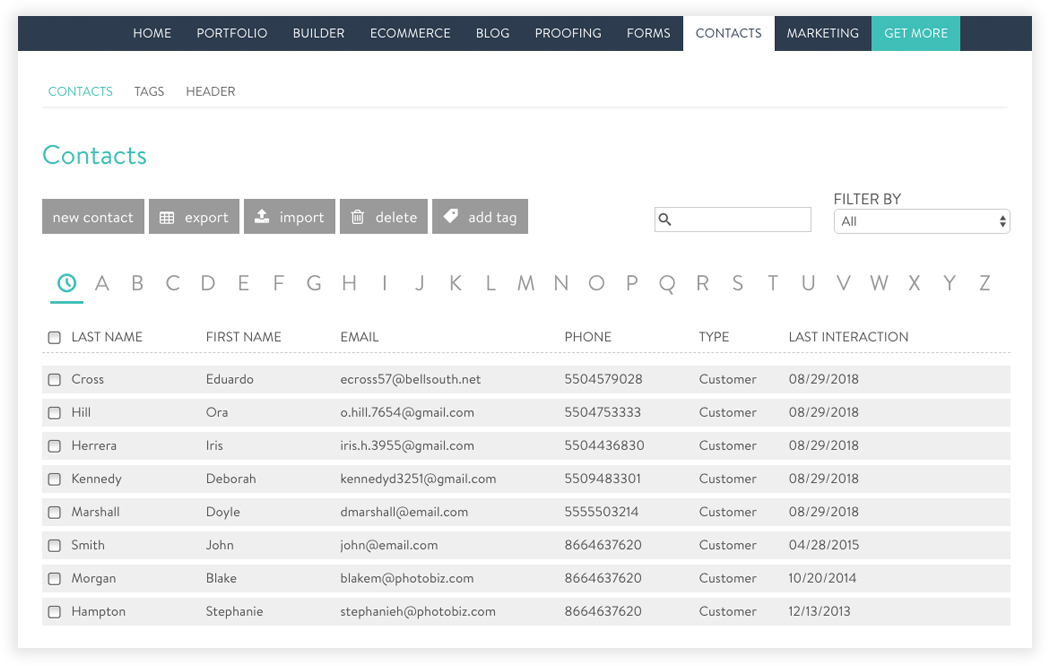 11. Marketing Emails
Send an email blast to your users using the Marketing tools included with your website. Start with an email template and customize it with your message. You can send 2,000 emails each month for free!
12. SEO Tools To Help You Get Found Online
Customize your metadata, add alt tags for images, and add tracking codes to set up pages for ultimate discoverability through search engines. We give you the tools to get you found for people looking for your business! (Want even more SEO help? Our team can help!)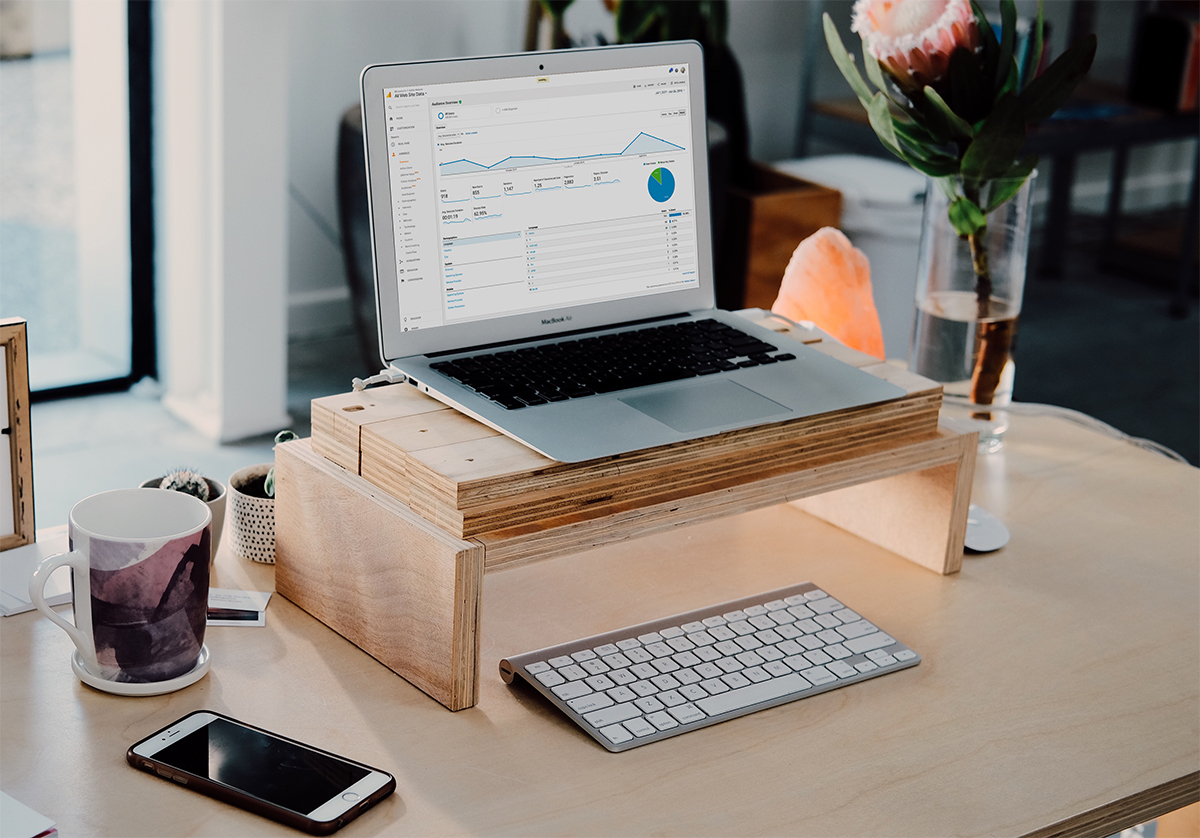 13. SSL is free with every website
Your website is ultra-secure using best-in-class encryption and data security throughout your entire website. SSL is included for free with every PhotoBiz site and protects all of you and your customer's data seamlessly. 
14. Templates Come With Pre-Loaded Pages
We understand that most people using our website builder don't have a degree in web design.
To help you build a great website fast, our templates come with pre-filled pages so you can simply swap in your images and update the text. Pages are built using effective layouts for photography websites so you don't have to fuss endlessly with the design or puzzle over what to include. Just plug & play – or start fresh! It's your choice. 
15. Integrate Google Analytics
Stay on top of how your website is performing by integrating with (FREE!) Google Analytics tools. Just grab the code and pop it in the tracking area of your website.
16. Magically Mobile Design
No need to create a second version of your site or spend time coding in breakpoints for smaller devices. PhotoBiz sites adjust automatically to every screen size, so you can look your best no matter how your customers find you!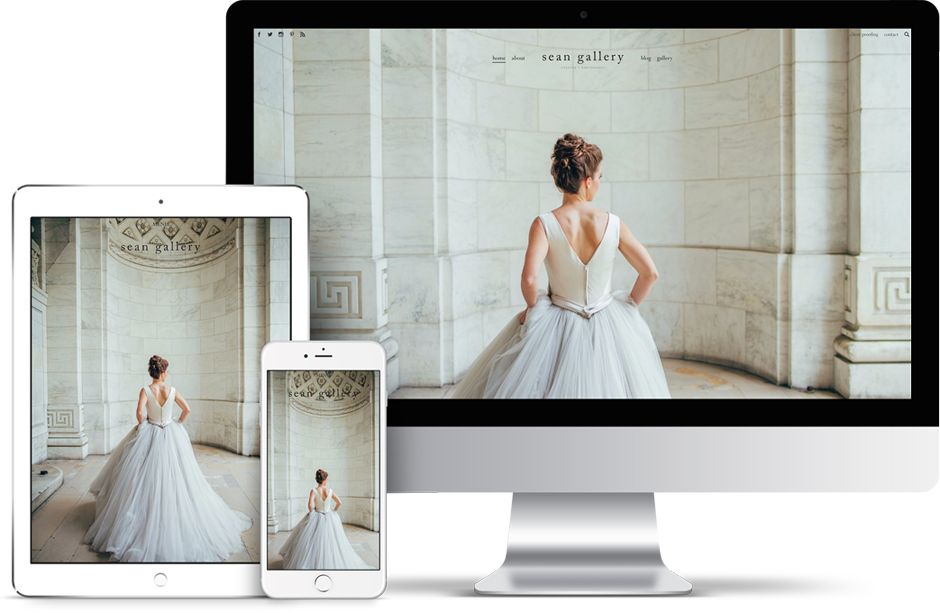 17. Promote Your Social Media With Icons
Get cross-traffic to your social media profiles by connecting your profiles to your website. you can customize the look of your social media icons and link to all of your different accounts across the internet. 
18. Publish Your Sitemap With A Click
When you make big changes to your website, it's a good idea to submit a new sitemap to search engines to make sure your pages get indexed quickly and correctly. We make it easy to publish your sitemap with one click! 
19. Embed HTML, JS, or CSS Code
If you are a coding wiz, you can customize your pages using code. If you use a widget with an embeddable code, you can add it to any page with a code block! Or access the header code of any page (or across your whole site) to customize the look and styling of just about anything. PhotoBiz is great for beginners and pros!
20. Add Video From Youtube or Vimeo
You can add videos and video banners using a simple embed code from third-party hosting platforms. Pop in the code and go!
21. Right-Click Protect Images
Don't worry. Your images are safe from download and copying with right-click protection that disables simple saving from your webpages and galleries. 
22. Password Protect Pages
Create hidden or private pages that can be opened with a secure password. This is great for member portals or premium content that is only available for select visitors.
23. Ecommerce With NO Commission Fees, Ever.
PhotoBiz Ecommerce is built to allow you to sell as much as you want with ZERO commission fees. We will never take a cut of your profits, so you can keep more of your own money in your pocket!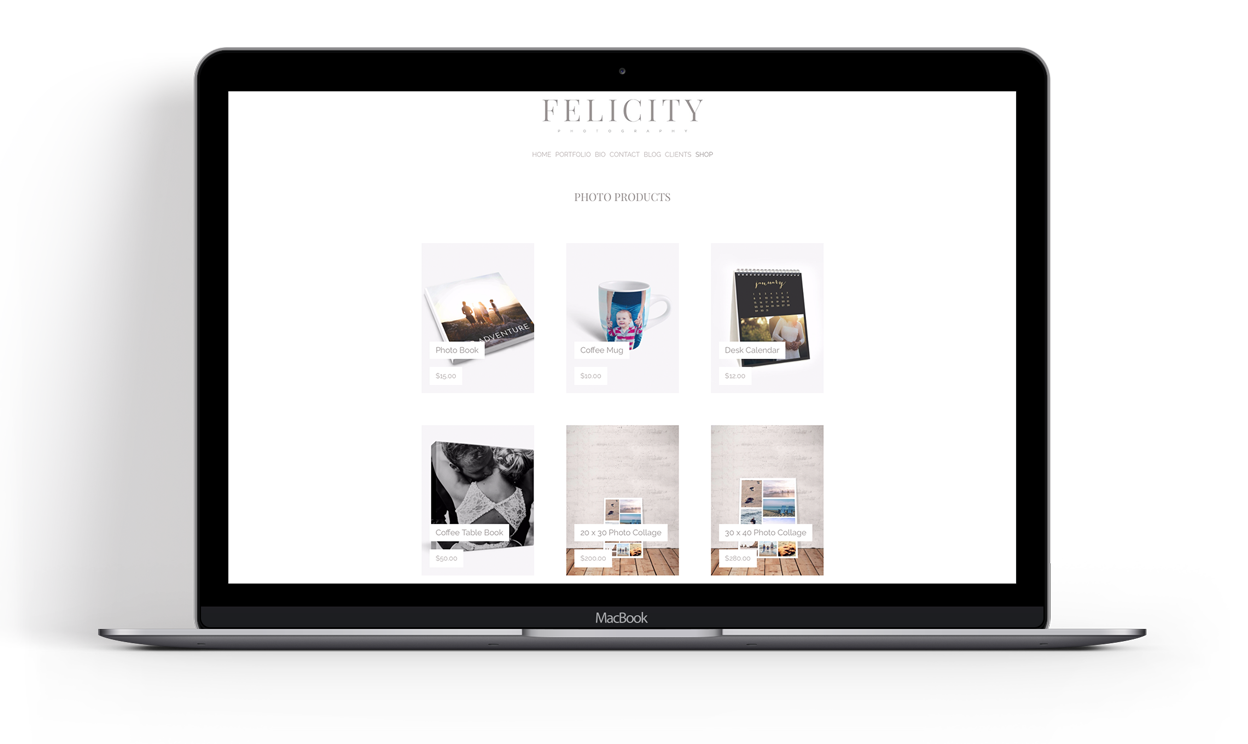 24. Choose From 7 Of The Most Trusted Merchants To Handle Your Payments
We understand that different businesses have different needs when it comes to handling payments. You can choose from seven of the most popular and best-trusted merchants to handle purchases from your store, proofing, invoicing, and forms. We partner with Stripe, Square, Authorize.net, PayPal, PayFlow Pro, Pay Junction, and iTransact. 
25. Offer Discount Codes & Gift Cards
Run sales & promotions your way! You have the flexibility to build in all kinds of promo codes or store sales and even offer gift cards to clients to get more business and increase sales.  
26. Inventory Management Built-In
Your PhotoBiz store comes with the ability to create and track individual SKUs down to individual product options. You can set a "low stock" alert to let you know when you need to reorder, and if your stock reaches zero it will display as "out of stock" so there are no goof ups when it comes to your inventory!
27. Sell Prints & Packages With Proofing
PhotoBiz was built with the needs of photographers in mind. Because of this, we built our system to easily set up and sell prints and packages of all sizes and descriptions.
Create your price list (or multiple price lists) and choose your available print sizes. You can let clients mix & match to build fixed or flexible packages right from their Proofing galleries for seamless photo sales online or in-person.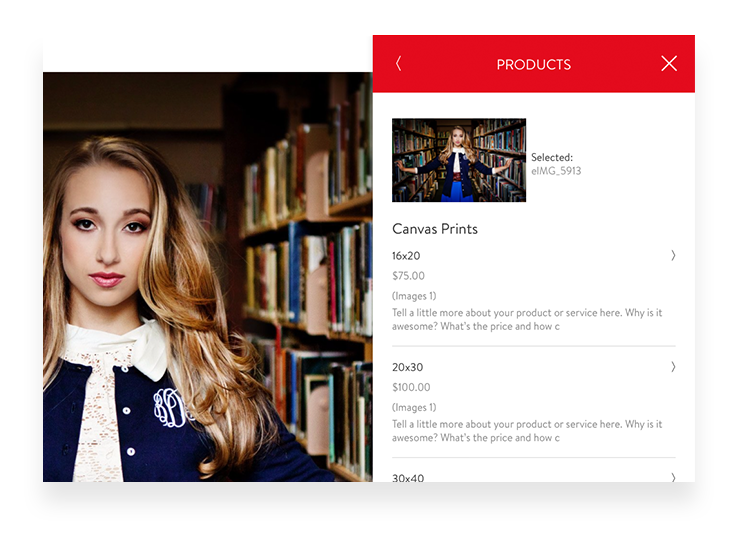 28. Create Product Add-ons & Options
PhotoBiz online stores allow you to create multiple precast options and add-ons so you can sell customized products or services to your clients. Sell mugs with a personalized message or t-shirts in lots of colors or sizes? Need to charge extra for different finishes or materials? Do it all with the PhotoBiz store!  
29. Sales Reporting & Stats
See your most popular products at a glance with your Ecommerce dashboard! You can run reports on your inventory, taxes, sales, and more to give you a better picture of your online sales. You can also export your sales data to use in your own accounting software if you choose. 
30. International Currency Options
No matter where you are located, let clients shop your store using your local currency. 
31. Custom Taxes
You can create custom tax rules to charge the right amount for each customer order based on location.
32. Offer Digital Downloads
You can provide a link with a purchase to deliver digital products like ebooks, PDFs, images, or other kinds of files to your customers. Whether this the main product being sold or bonus material or user guides, you have the freedom to sell products and services your way using the PhotoBiz platform. 
34. Create & Send Branded Invoices
Build beautiful invoices and send them to your clients. Branded with your business information and logo, they are professional and easy to use. Allow your clients to pay online or in-person and send receipts and reminders. You can send invoices for FREE with your PhotoBiz account.
This is an essential tool for businesses and is offered as a premium or paid service with other websites or payment systems. We provide this option for free to help you run your online business better in one place.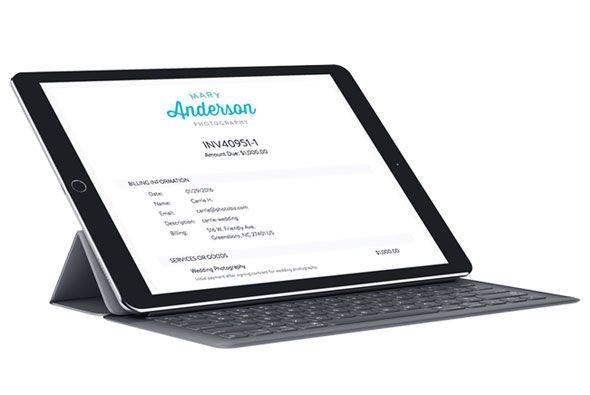 35. Create Due Dates For Payments
Choose a due date with your invoice and the system will alert you to follow up with your client if the invoice remains unpaid. You can re-send the invoice to give your client a gentle reminder if their due date is coming up (or even overdue!)
36. Get Paid Online Multiple Ways
You have tons of options to configure your online marketplace so you can get paid in the way that's most convenient for you. 
Whether you sell products or services in a store, use Forms to collect orders or deposits, send Invoices, or use a Proofing gallery to make sales, you have tons of options to get paid quickly and beautifully online and provide a great experience for customers.
37. Take In-Person Payments
If your client would prefer to pay in-person, the Ecommerce dashboard contains options for you to accept and reconcile offline payments with a client's online account. 
38. Personalized Options For Proofing Galleries
Choose from many layout styles and then further customize your client galleries with your branding, colors, and titles. Choose button styles and icon designs, and even add a custom watermark.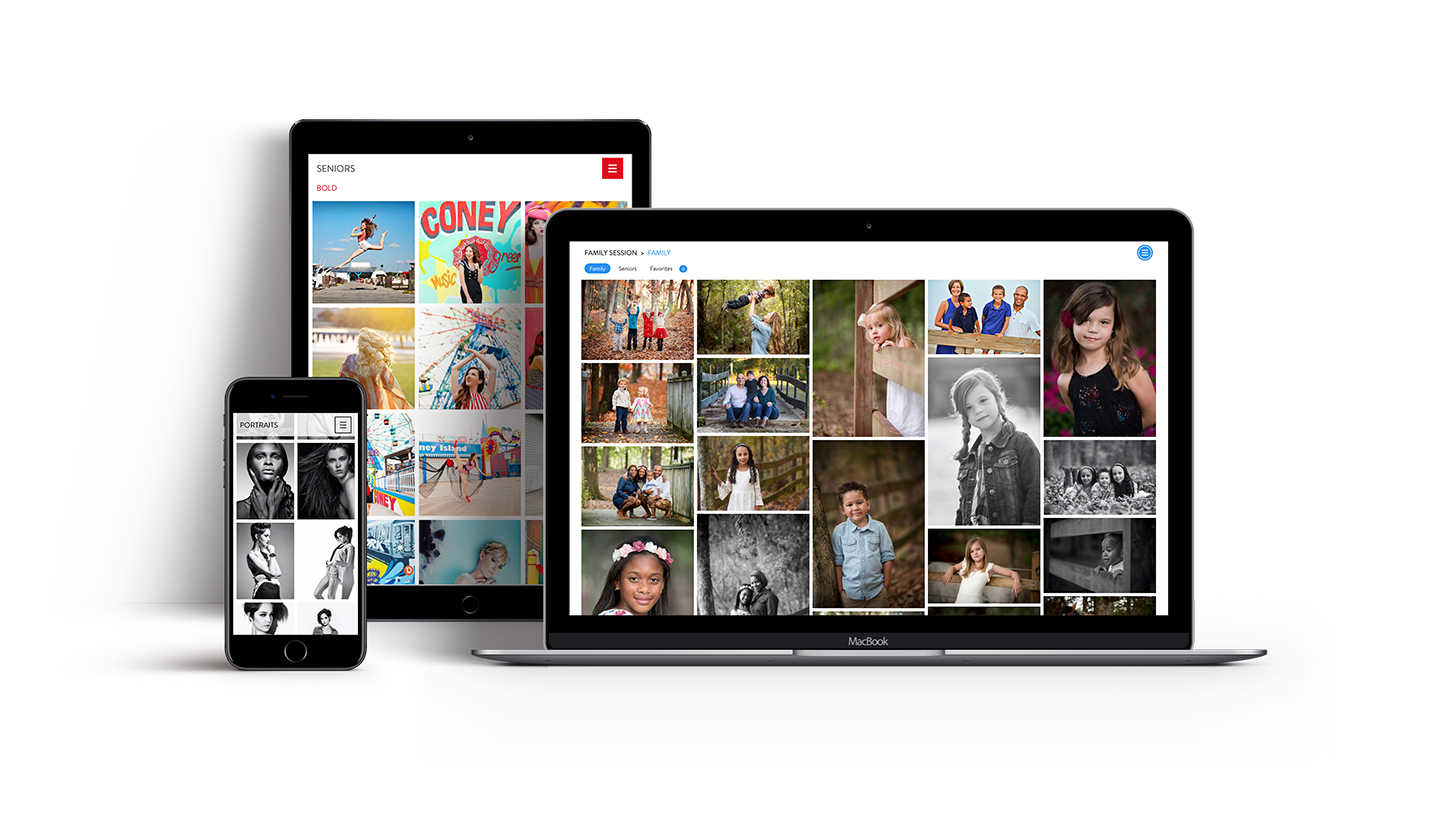 39. Custom Gallery Cover Pages
Give your clients a completely personalized experience by adding a custom cover page with one of their images. They'll love seeing the "hard work" you put in (just kidding, it's really easy!) to give them a luxe, personal experience.
40. Password Protect Client Galleries
We get it. Privacy is huge, especially when it comes to keeping your client's images safe. You have the option to lock down galleries with a password so only authorized users can access or view them. 
41. Watermark Images
Use a default watermark symbol or upload your own design. Your images are safe from being saved or screenshotted.
42. Clients Can Comment & Save Favorites In PhotoBiz Proofing Galleries
Proofing galleries are packed with tools to help you do your business faster. Clients can save favorites and send them to you with comments. This makes communication faster and easier so you know which photos they love and get a record of which photos they have something to say about. 
43. Make Sub-Galleries
Organizing your client images into sub-galleries makes a lot of sense for photographers that take a LOT of photos, or shoot multiple subjects or locations within a larger shoot. Sub-galleries display as a tab at top of the screen and are a snap to set up.
44. Purchase Through PhotoBiz Proofing Galleries
We make it easy to give your clients an all-in-one tool to browse their images, give you comments, save their faves, share with family or friends, and purchase their images. Offer prints, packages, or products and let them fill their own orders with poses according to your settings. Seamless checkout makes it easy to order again and again!
45. Add Music To Galleries
Use music to create a mood or set the scene for clients as they take in their images from your photoshoot. You can upload your own music files, or choose from our music library!
46. Form Templates Ready For You To Customize
Making a form sounds hard and boring... but it's easy with PhotoBiz. We have created handy templates for you to use for the most common form types. Just customize your fields or design and you're ready to go! 
47. Forms Can Accept Uploads
Need a job prospect to submit a resume? Want some sample images from a client? Your Form builder can accept uploads and keeps them organized within your CRM for when you need them. 
48. Forms Can Take Payments
Let your customer complete a custom order, make a reservation, submit a donation, or give you a deposit. Forms are versatile and easy to use.
49. Create Digital Contracts & Take Official Signatures
Forms can be used for all kinds of purposes... but putting your contracts online can change your whole business. Speed up your process by letting clients sign online. The form builder includes an area for an official signature so you can sign contracts on the go and keep everything organized in your online portal.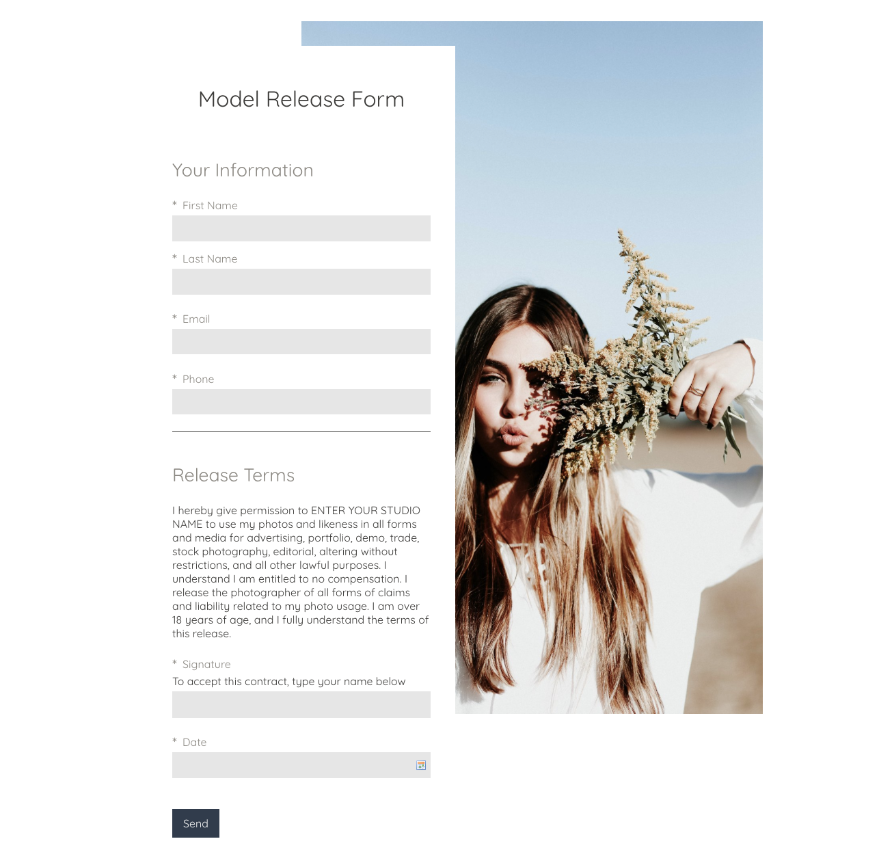 50. Form Encryption For Enhanced Security
All of your customer data is kept safe and secure, protected from intrusion or theft by top-tier internet security standards. All of your client data is protected, especially on forms where sensitive contact and financial data is often shared. 
51. Use Pop-Ups To Catch Attention
Put eye-catching pop-ups on pages to communicate special offers, get newsletter sign-ups, or direct clients to important pages fast. You can style pop-ups with images, backgrounds, and forms to make them beautiful AND functional! 
52. Sticky Banners For Temporary promotions
Another option for alerting clients of special deals or time-sensitive info is to use a sticky banner. Sticky banners can attach to the top or bottom of any page or Proofing gallery and include a button to take the user to their destination and find out more!
53. Email Marketing To Connect Quickly With Customers
Stay in touch with email promotions from PhotoBiz! You can send 2,000 free emails each month and we give you templates to easily customize with your images and message.
54. Email Marketing Campaigns Work As Landing Pages For Social Media
Get even more eyes on your promotions by posting your email campaigns to social media! Each campaign gets a dedicated landing page link that anyone can access online. Share with your audience and get more users browsing and buying on your website!
55. See Who Is Opening & Interacting With Your Email Campaigns
Once you hit send, built-in analytics let you find your best customers (and those who need a little push). On-demand metrics into engagement, shares, and visits let you craft more finely-tuned promotions for your clients.
56. Choose Which Resolution People Can Download From Personalized Galleries
Give clients the ability to download images from their galleries at either web or print resolution. 
57. Images Automatically Resize To Different Screen Sizes Without Slowing Performance
There's no need to compress or resize your images to use on your website. 
58. Upload PDF, JPG, PNG, and GIFS
PhotoBiz accepts a variety of file types to use on your website and share with clients. 
59. Rearrange Gallery Images With Drag & Drop Tools
Change the order of your images by clicking dragging & dropping them into place using the PhotoBiz 8 builder.
60. Copy Pages In The PhotoBiz 8 Builder
Need to duplicate a page? No problem! 
61. Copy Blocks & Move To Other Pages
Use drag & drop tools to move blocks around each page and even move to OTHER pages by dropping them on another page's tab in the builder. This makes it easy to recreate commonly used block styles throughout your design and make your website presentation uniform and seamless.
62. Hide Or Disable Pages Easily
Toggle pages on or off to quickly hide or disable them from your menu. 
63. PhotoBiz Clipboard For Easy File Management
Use images over and over again from your clipboard to reduce file space and minimize the need to upload duplicate images. Images are kept in one media library and are easy to fin and insert into pages or blocks. 
64. Pages Are Completely Customizable
If you can dream it, you can do it.
Build and customize endlessly with flexible blocks that do more without you having to know a single line of code. Modern overlays for text and images amp up the "wow" factor. Add galleries, videos, forms, blog posts, and storefronts to any page with just the click of a button.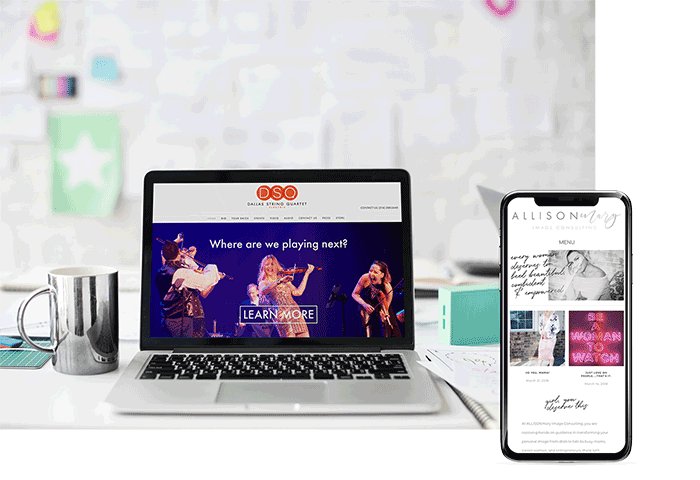 65. Huge Font Library Built-In
Our huge and ever-expanding font library includes hundreds of font styles to choose from and even features many of the most popular Google fonts.
66. Display Photo Galleries With Different Layout Options
Image galleries have many layout styles for you to choose from, and you can customize the number of rows and columns you would like to show by default. 
67. Lazy Load Image Galleries For Faster Page Speeds
To speed up loading times and provide a better experience for your users, we enable lazy-loading of gallery images so that pictures load as the user scrolls down the page. This significantly boosts loading and page speeds and makes it easier for your customers to use your website. 
68. Customize Page Names & URLs
Edit your page names and add friendly URLs to make your pages easier to find, navigate to, and give links for. 
69. Customize SEO Metadata & Descriptions
Each page contains an SEO Tools section so you can customize the meta titles, descriptions, keywords for the content that is on the page. Editing your metadata will make your pages more attractive to search engines and the people who use them to find your business.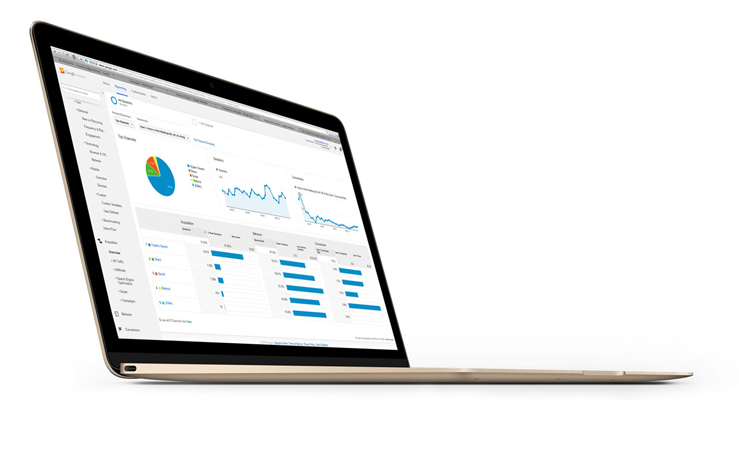 70. Add A Map
Use the built-in maps feature to add a map for your locations. You can change the design of your maps and add some supporting text, titles, or a button to go with it!
71. FAQ Blocks
Answer frequently asked questions or just give information in a beautiful presentation. Dozens of styling options are included to display your text in classic or modern layouts. 
72. Globally Customize Color and Spacing Settings
Set your universal spacing and colors to keep things consistent as your client moves from page to page.
73. Each Builder Block Has Its Own Settings You Can Customize
If you want to get REALLY fancy with your page design, you can customize each individual block to make your design as unique and precise as you need.
74. Image or Video Banners
Create big and impactful banners with image or video backgrounds.
75. Fixed Or Parallax Scrolling
Choose images that stay in place or glide elegantly as the page scrolls. A hint of animation can dazzle your clients and enhance their viewing experience.
76. Add Google Tracking Code & Facebook Pixels
Get even more conversion and performance data from your website by integrating with Google and Facebook tracking. Get the tracking code and plug it into your website's header. You'll get critical information about how your pages and campaigns are working.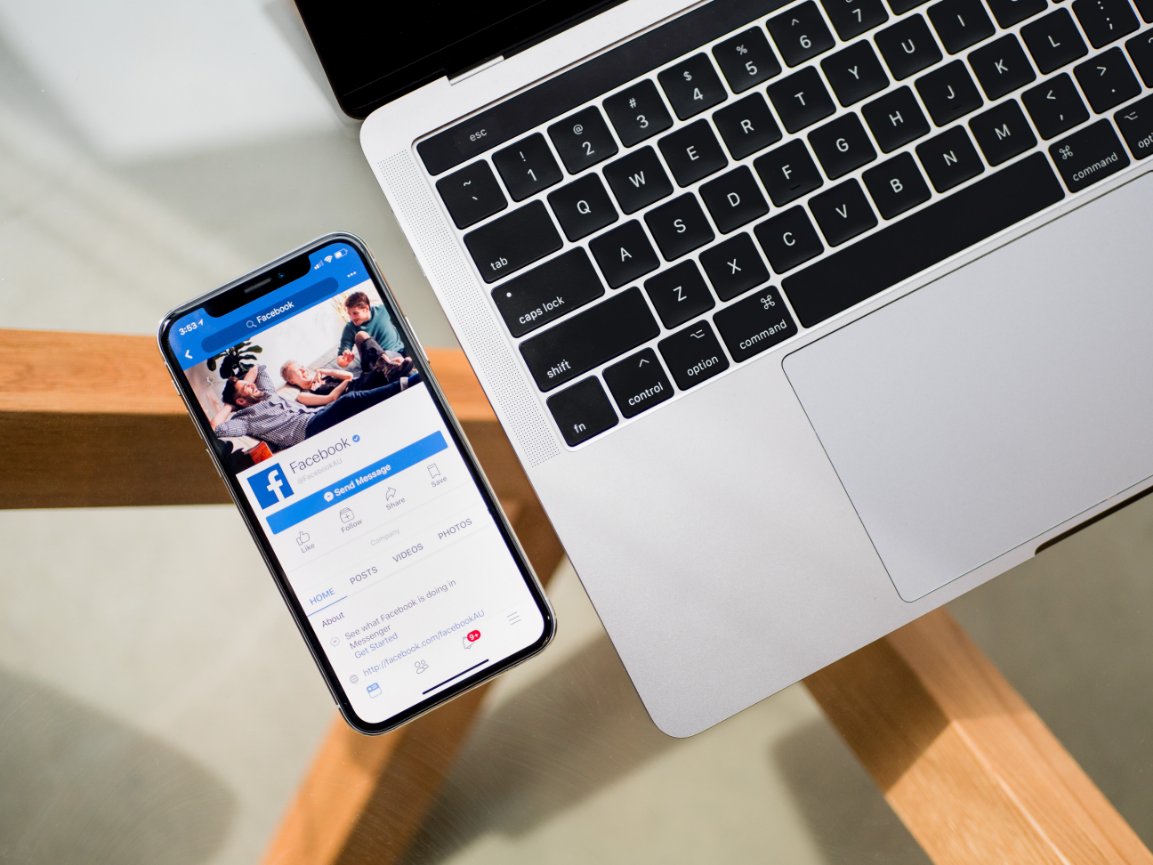 77. Modify Button & Icon Styles
Customize how your buttons and icons look on your website.
78. Enhanced Footer With Tons Of Options
Add your sitemap, important links, badges & buttons, a sign-up form, copyright data, social icons and more!
79. Top-Level Links & Buttons To Drive Visitors To Important Content Faster
Wouldn't it be great to immediately drive users to call you, shop your store, or fill out an inquiry form? Site Links are top-level buttons that sit in your menu or header that allow clients to perform essential functions immediately.
80. Stock Image Library
If you need a quick image, browse our stock image library to fill gaps in your content or use in a quick campaign. All of our images are available for you to use for free, and can be inserted into your pages or campaigns without having to download or upload a thing.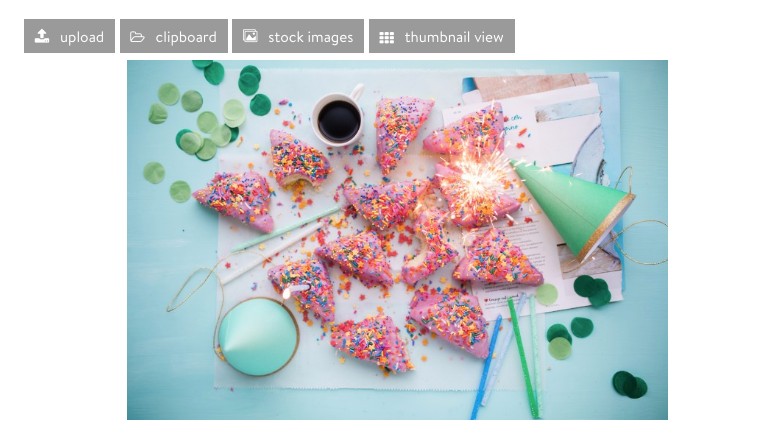 81. Have Conversations With Clients
Conversations are like email or chat (only better). When someone reaches out to you by submitting a form or commenting on a proofing gallery, you can respond immediately using Conversations. Conversations let you send professional, branded messages simply and keep track of every interaction.
82. Import & Export Client Data
Add client data to your PhotoBiz CRM by importing a CSV of client records. You can export data, too, if you want to use that client data elsewhere.
83. Tag Forms, Products & Blog Posts
Tags help you categorize clients into marketable lists and sort blog posts and products to make them easier to find and display online. Using Tags, you can build email lists, host multiple blogs on one website, and segment your store into flexible secondary categories or seasonal offerings. 
84. Create Custom Lists For Email Campaigns
You can create custom lists on the fly when sending an email campaign. Either send to a dedicated list, upload a new list, or enter your email addresses to dynamical create contacts. 
85. Access To Tons Of Professional Web Services No One Else Has!
We're more than just a website builder. PhotoBiz offers all kinds of professional web services to support your whole business. 
From web and logo design to SEO help, copywriting (we are currently NOT accepting new submissions for writing services at this time), social media setup and more, we are here to support all of your online efforts so you can look your best online to your clients. With affordable options and packages available, let us help you build the best website possible!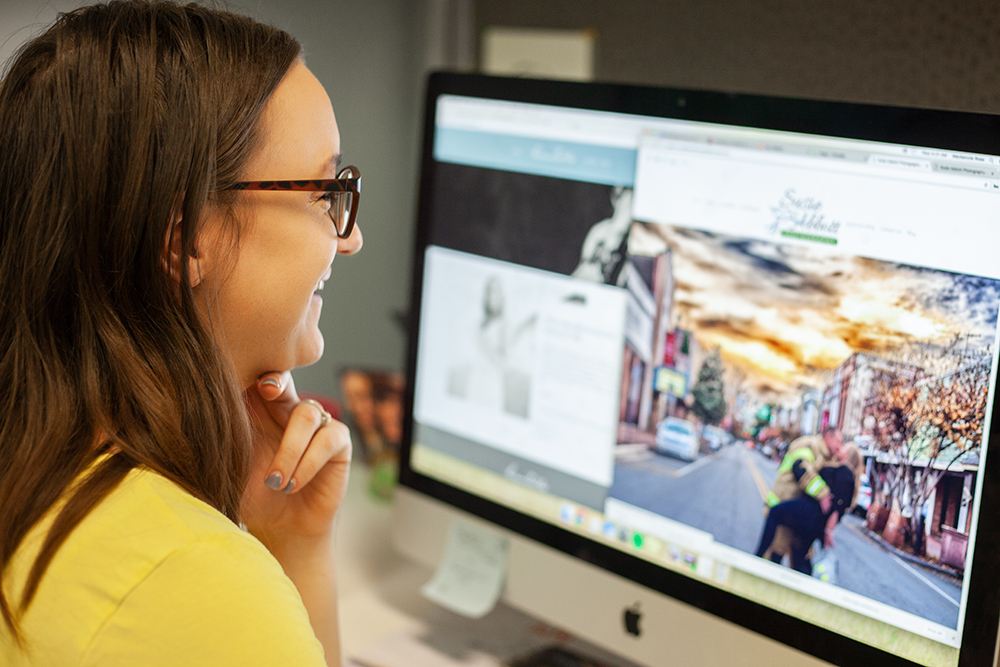 86. Create GDPR Compliant Forms
Be in full compliance with international privacy and data protection laws by including GDPR settings on your forms and marketing materials.
PhotoBiz allows you to be totally transparent and uphold common-sense marketing practices that work for large and small businesses. 
87. Spam Filters To Block Unwanted Messages
Block spam messages with advanced privacy and security settings that can disallow messages containing certain words or phrases, or come from known bad IPs. You have the freedom to customize your individual spam settings so you get all of the messages you want, and none of the ones you don't. 
88. Integrate With Tons Of Third-Party Tools
All of your most essential tools are built right into the PhotoBiz platform. But if you need another tool, we make it easy to embed code or widgets that let you interface with critical systems to support your business. Any kind of HTML or script can be added to a page, your footer, or your whole website.
89. Link Your Own Domain Or Get A New One
Already have a domain? We can connect it for you. Need a new web address? Our domain specialists are ready to help you find a memorable and unique domain for your business. We offer domain names at cost as an added service so you can keep all of your website needs in one place. When you are ready to launch, get in touch with PhotoBiz support and we'll set it up for you.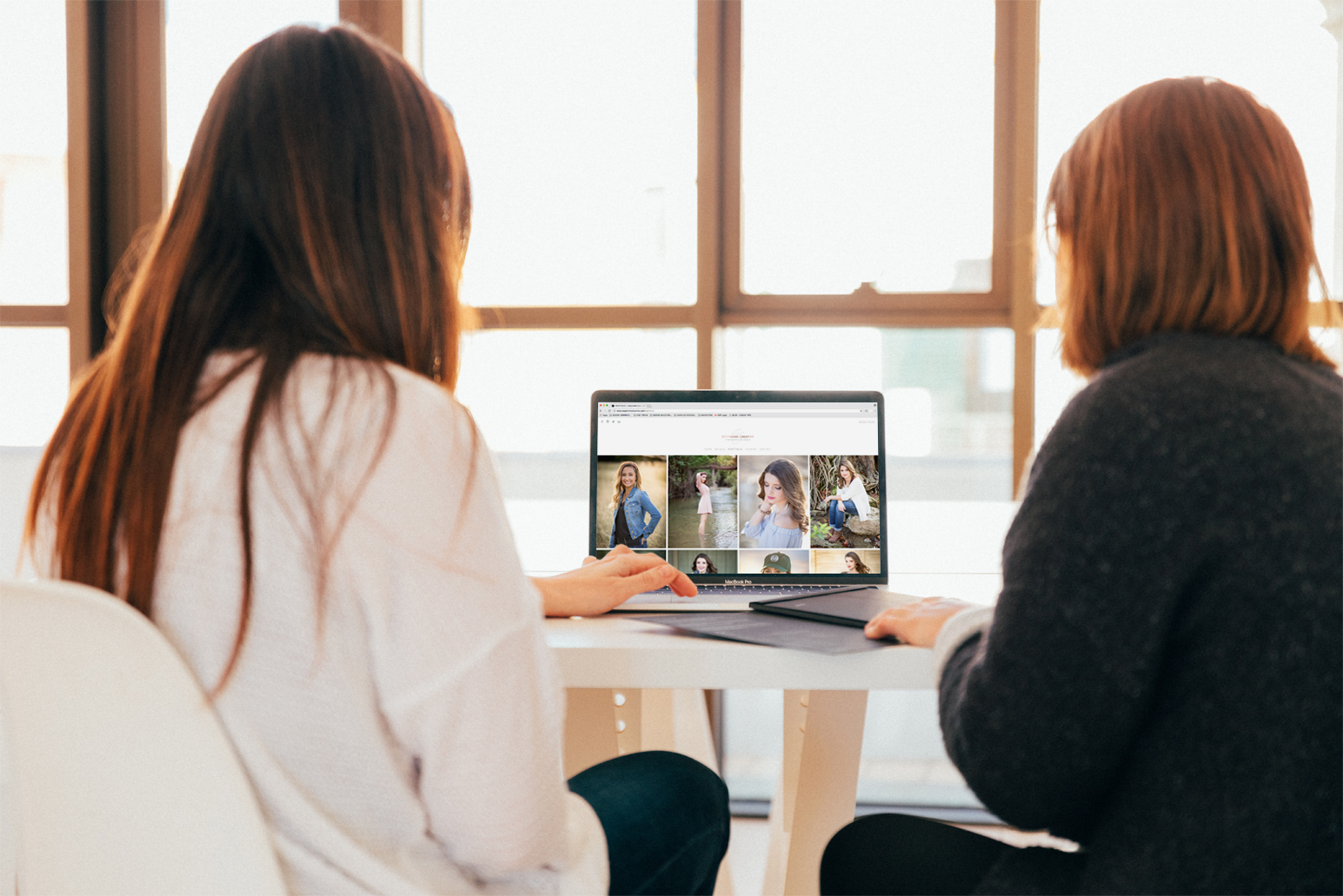 90. Branded Business Email
Build trust and confidence in your business with a professional, branded email address. Your PhotoBiz mailbox includes 25 GB of storage, syncs across all of your devices, and is protected by SSL encryption and anti-spam/anti-virus filters. In addition, a built-in suite of calendar, contacts, tasks & notes let you get more done without leaving your dashboard.
91. Share Everything On Social Media & Email
When you create a campaign, proofing gallery, blog post, or form, you can go ahead and share it to social media or send via email to anyone you choose! We make sharing easy so you can get the word out about important messages and promotions. 
92. Referral Program To Get Your Site Paid For!
It pays to refer friends & family to PhotoBiz! We offer a $25 credit on your account for each person who says you sent 'em. Many of our most active users have their entire sites paid for with referral credit and can even purchase extra services like SEO and design!
93. PhotoBiz is Completely Ad Free!
We have absolutely no ads on any of our websites. Your brand is your brand, and you have the freedom to create and style your website free from 3rd party ads, banners or page take-overs. 
94. The Entire Platform Works Together As One
PhotoBiz is an all-in-one platform built to function seamlessly without the need for any add-ons or extras. Everything is built to work together, so there's no worry of negative interactions between systems or programs.
Having a native all-in-one platform also means that all of your data and tools are together in one dashboard, with only one log-in to remember. It helps you run a tighter business with less maintenance, hassle, or headache!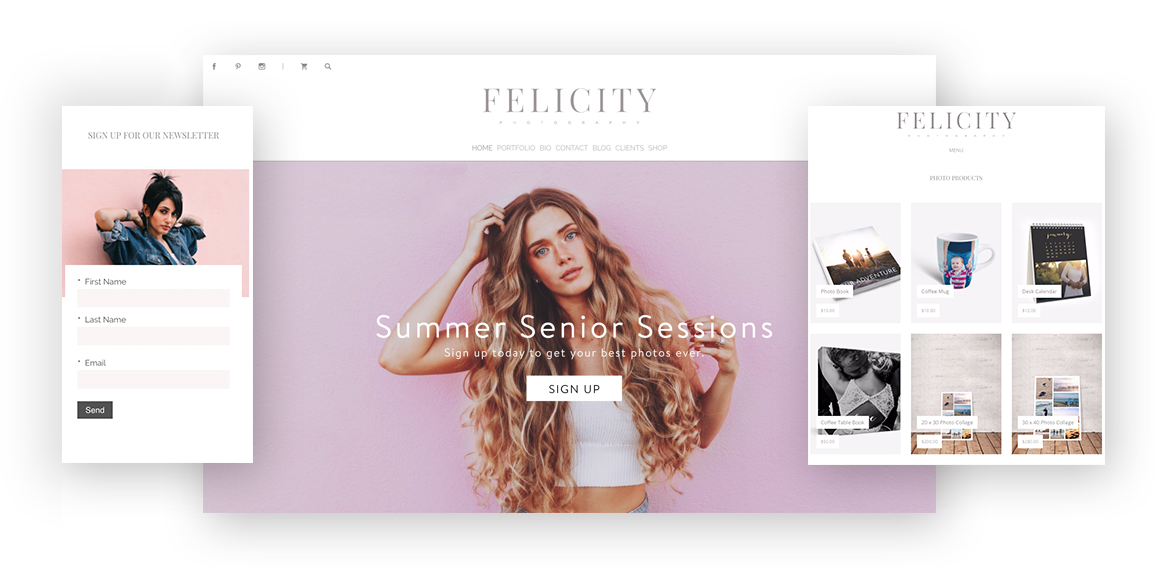 95. Upgrades Are Available For More Space, Emails, Or Assets
Your PhotoBiz account includes space for 5000 images, up to 500 form submissions/month, and 2,000 email promotions/month. If you ever need more space than that, we have affordable upgrades available starting at $5 to cover all of your needs.
96. You Can Go Completely Brand-Free
The only branding our platform uses is a small mark at the bottom of your footer that links to our website. This is to let your users know they can get a great website, too and give them a chance to refer you if they sign up. (Hello, credit!) If you prefer to go brand-free, you can choose to pay a monthly fee to remove this mark.
97. Tutorial Videos & Knowledge Base To Help You
If you ever get stuck or have questions, we have hundreds of helpful articles, how-tos, and tutorials to help you learn how to update and maintain your website at your own pace. But...
98. We Have A Full Support Staff Available To Help You On-Demand At No Extra Cost
We offer infinite personal support for all of our customers. Call us anytime or send us a support ticket or email. Our team is here to help you every step of the way, from developing your brand to building your website and growing your overall marketing strategy. We're not just tech support, and you can lean on us anytime you need. We're here to support you, so you can get back to doing what you love.
99. We Have A Phone Number
The big difference between us and the other guys? You can call us. In fact, we encourage it! Our toll-free phone number (866-463-7620) is front and center. And you can send us any questions through Facebook, Twitter, or on live chat anytime. Or if you live near our office, just drop in and say hello!
100. You Can Kick All Those 3rd-Parties To The Curb!
Yup! PhotoBiz has everything you need built-in. Why pay extra to another provider for Forms, Proofing, Marketing, SEO, or Design help? Having one log-in and a relationship with a trusted provider is better for your business and makes it easier to manage your company. 
101. PhotoBiz Is A Small Business 100% Based In The USA
We serve thousands of photographers all over the planet, but PhotoBiz is locally and family-owned, based right in the middle of downtown Greensboro, NC.
All of our agents, developers, designers, and coders are right here in the USA. Nothing is outsourced, so you know you're getting the best product and service in the industry. We aren't a huge mega-corporation with offices spread out over the country. We're a tight-knit bunch, and we serve our clients passionately, getting to know each one and what drives their business. 
It's because we care so deeply about our clients that we're able to give such a high level of service and Passionate Support®.