#1 Yes, You Really Do Need A Logo. 

Branding yourself is SO important. What do you think of when you hear the term "McDonald's?" Those beautiful golden arches. Coming up with a strong visual element that represents your brand and impacts your potential clients is extremely important.
#2 Do Your Research
Before you begin your design process, be sure to ask yourself these important questions:
Who is my target market?

Who are my main competitors?

What differentiates me from my competitors?

What emotions/feelings do I want my logo to evoke?

What is my tagline and how can I make my logo work with it?
This is crucial to beginning your journey to a new (or redesigned) logo. Something else to research is the style you're going for. Keep in mind that just because you like a script font does not mean that you need to utilize a script font in your corporate headshot logo. If you're not sure the style you should go for, look to your designer for advice. This is their day job, after all. Please remember, though, that they are not psychics, contrary to popular belief, and cannot read your mind. Even if you have no clue what you're looking for, bringing some elements that you like or have seen other professionals do to the table will help your designer more than you know. Visual elements are always great and a little goes a long way!
#3 Be Open To Change!

I know, I know. Your colors have been forest green and traffic cone orange since you've been in business and you're nervous to lose your signature colors.

I've heard it all…
"Can we keep the colors the same? I'm scared people won't recognize my brand."
"I've had this look since business opened, I don't want to stray too far away…"
"I'm open to a new look but can we keep the font Papyrus?"
Remember this, people! TRUST YOUR PROFESSIONAL! This is KEY in picking your new logo. It's absolutely important that you convey the feeling and look that you want to achieve with your logo, but it's also extremely important that you let your designer showcase their expertise.
#4 Communicate, Communicate, Communicate
Your designer wants the best for you. They want your honest feedback 110% of the time, and they want to deliver the logo of your dreams. Keep your communication open, clear, and concise. If you're nervous to hurt your designer's feelings with your feedback, do your best to move past it. Trust me, they didn't go to art school to hear nothing but nice things said about their art. How would they grow? Giving through feedback and edits on their work is highly advised. It's more frustrating to get to the end of a service with an unhappy client when the appropriate edits could have been implemented within the first revision.
#5 Go To The Pros!
You've heard the term "you get what you pay for." The same goes for design work. Take your time in researching a professional that will take the time to listen to your wants and needs, as well as steer you in the right direction toward great design. Selecting a logo is an investment in your business, and a smart one at that. Professionals have the experience and talent to take your vision to the next level.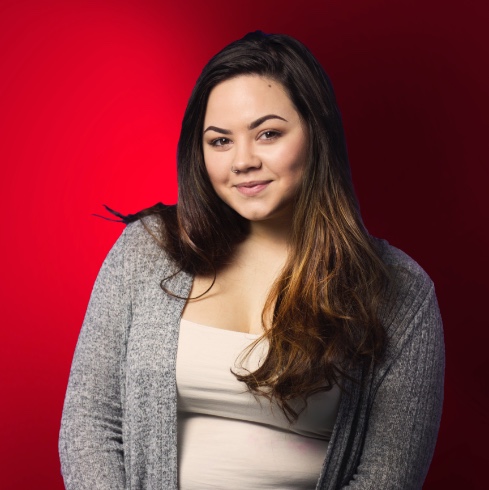 Ashlie A.
Web & Graphic Designer 
Ashlie is our resident logo design expert, where she has created hundreds of designs for her clients. 
She has designed unique and custom logos for photographers of all descriptions, as well as for non-photography businesses such as makeup artists, yoga studios, and more. 
Ashlie is adept at drawing out the personality of a brand. Through fonts, colors and vibrant visuals, Ashlie captures the heart of a brand and brings it to life with her impactful and creative custom designs.