Your website is meant to be your "Silent Salesman" – there to get you sales even when you're tending to your real-world clients.
But to run a successful business, you need to do more than just sell. There's accounting, marketing, inventory management, bill collecting and more – all kinds of picky (boring!) things that can seem to get in the way of doing what you love… and even more so when you do them online.
Is it possible that your online store can actually make all this work… easier?
I'm here to say: YES! When done right, your ecommerce site can take care of many challenges you face when selling online – from encouraging lackluster sales to easily handling inventory & billing.
Let's look at 7 of the most common ecommerce problems and how to fix them.
Getting Paid (And Managing Fees!)
When you operate in the real world AND in a digital space, accounting can get tricky fast.
You need to take online and in-person payments. Your customers have cash, checks, credit cards... AND your books need to square, without opportunity for confusion or mistakes.
This breaks down into 3 problems:
Selecting a merchant and a website

How to take credit card payments in person

Integrated accounting
If you're selling online, you need a merchant to process your digital payments. (Like Paypal, Stripe, etc.)
But different merchants charge different transaction fees... and sometimes your website will limit which merchants you can use (Squarespace, for example, only integrates with Stripe.) Even worse, your website provider itself could charge commission on top of merchant fees! This is bad all around, and a big reason you should be careful when selecting a platform.
Look carefully at the terms of your ecommerce website and don't be afraid to ask questions.
Does the provider offer a range of merchants to work with?
Investigate the fees for each merchant and find a schedule that works best for your business. PhotoBiz integrates with a wide variety of merchants so you can pick the best and most affordable choice that fits your budget and sales volume.
Does the website charge commission on your sales?
Some website companies (like Zenfolio, SmugMug, etc.) will charge you to have an online store... then charge you AGAIN to use it! That's sneaky. PhotoBiz NEVER takes a cut of your sales or charges a commission of any kind.
So what about in-person sales? No sweat. Your phone or tablet can process credit & debit payments with our Point Of Sale app and (optional) credit card swiper. This allows you to get paid anywhere, using whatever method your customer likes best.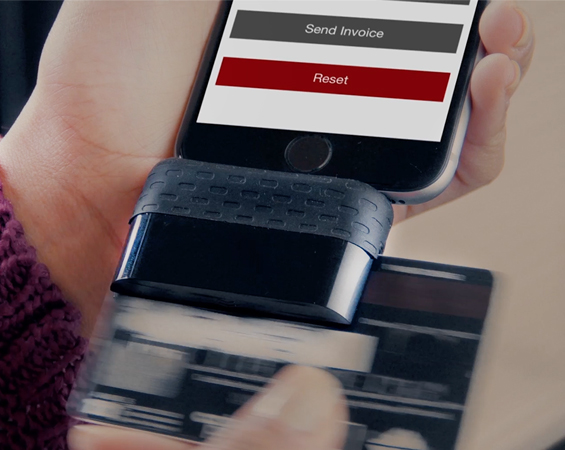 All your payments are tracked in one place, with ONE SET OF BOOKS.
Goodbye big, confusing Excel spreadsheet; your PhotoBiz website tracks everything for you down to the individual order. Credit payments are automatically logged, and cash or checks can be marked "paid" when you receive your money. You'll get reports on your sales activity, so you can see everything at a glance.
And beyond online store and in-person sales, PhotoBiz offers lots more ways to get paid while streamlining your business process: from booking mini-sessions to taking session deposits right on a model release form.
It's truly the least fun part of work – making sure your clients' invoices are paid and sending (nice!) reminders. But it's essential.
Invoicing is included with all Photobiz websites and it's easy to use.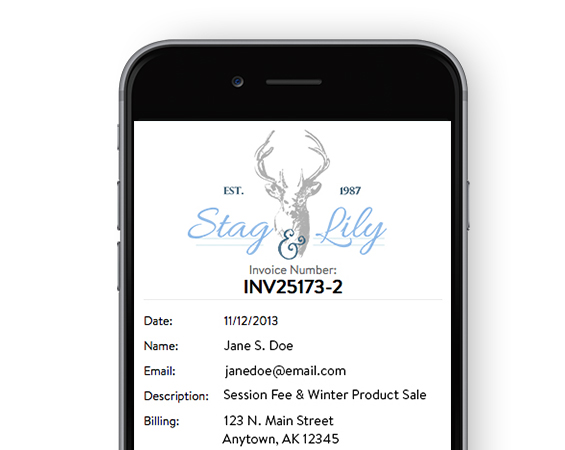 You don't have to fiddle with a PDF, Word template or any kind of accounting software. You simply select the client, add their items and prices, then hit send. Your client gets a nicely styled, branded invoice automatically.
Because Invoicing links to your personal client list (and their billing info), everything is automated and guaranteed to be correct. The invoice won't get lost or sent to to the wrong address by mistake.
The invoice is also convenient for your customer. They have the option to pay online, pay in installments, or take care of the bill in person. It's flexible.
You can tell at a glance which invoices are paid, and which are not. You can also set due dates for your invoices… and send reminders with a single click. And again, all of your entire sales details are kept in one place, so it's super convenient.
Getting More People to Your Site
When we're talking traffic, the first thing most people think about is SEO. And it *is* important... making sure your pages have appropriate metadata. That you have enough searchable text on them to actually get found. A healthy blog that you update frequently...
But beyond positioning yourself on search engines, you should be using marketing and social media tactics to find new customers and ensure current clients come back to buy again.
1. Leverage relationships with current clients to find new customers
Each of your clients is connected to hundreds of friends and family members. If they see your client having a good experience with you as a photographer, you have an exponentially better chance at securing their business, as well.
Posting "peeks" into your client's sessions on social media can be hugely rewarding.
Say you're wrapping up a family portrait session, preparing a proofing gallery for your client. Before you share the gallery, post a few "preview" photos in a blog, with a few sentences about how lovely this family was to work with.
Next, share that blog to your social media and TAG THAT CLIENT! They will almost always share your post to their network, increasing your exposure to all their friends and family. To see more photos, they'll click through to your website… where they'll see your CALL TO ACTION to book their own session. If they leave a comment, book or subscribe to your newsletter, you've captured their information so you can reach out to them later.
You can also ask your customers outright to refer you to their friends. If they're happy with you and your work, they'll be glad to drop your name when a friend needs a photographer.
2. Encourage past customers to come back
Just because a session is done, doesn't mean that client relationship is over. A newborn session can turn into a string of family sessions, a senior session, and eventually engagement and wedding shoots… with perhaps more newborn sessions to follow! Focus on building relationships with your clients to encourage them to return again and again. 
Sarah Petty has a great theory about relationship marketing. If you can make a client feel special, that's worth more to them than any discount. And it helps ensure their continued business.
She suggests giving small gifts to clients who make large purchases – a mini-canvas, brag book, bonus card set or ornament. Something small that doesn't cost you much but HAS A LOT OF VALUE to your clients. If you nurture your relationships, you'll earn your customers' loyalty.
It's also helpful to stay top-of-mind with your clients as well. Follow them on social media and they'll likely follow you back. Post peeks of current sessions as mentioned above to give gentle reminders of how awesome you are :) Ask them to subscribe to your blog for studio updates and more. These are just some ways to gently pull your customers back into your orbit and get them back on your website buying.
3. Capture new leads with a contest or form
PhotoBiz forms integrate with your client & lead list, so all of the information captured is added to your database automatically.
Think about ways to add names to your list while making it fun for your customers, too. Get creative. Run a contest. Ask visitors to subscribe to your blog for updates. Offer exclusive discounts to your "Photo Club." You can use the Client Relationship Builder to handle all the hot leads you're getting, and reach out to them later with….
4. Email marketing & landing pages
With your list of leads and customers in hand, start thinking about ways to get them back on your site. Fortunately, you have a built-in email marketing tool that helps you send great-looking emails to your customers.  
Consider sending periodic newsletters giving peeks into your sessions, studio updates, and offers. You can also send straight-up marketing emails letting them know when you're booking sessions, selling special products, or running a great sale.
Include a button with a CALL TO ACTION at the bottom asking them to visit your site, contact page, or booking page. Always link back to your site.
You can reach even more people than just in your mailing list, too…. Because each email campaign can double as a landing page for you to share on social media.
5. Get citations and backlinks
What are citations and backlinks? They're links to your website – on reputable lists and on partner websites.
Think about where your customers may be looking for your business. If you do wedding photography, for example, you could try getting listed on weddingwire, the knot, or other listing sites specific to that industry.
These links will help customers find you even if you aren't on page 1. They add legitimacy to your business by being listed alongside other upstanding professionals in your field. And they add to your domain authority, helping you climb the search ladder with each successive backlink.
 Alex C, our resident SEO expert, wrote an excellent article about how to get citations and backlinks… check it out!
Managing your stock sounds boring... until you sell something you don't have anymore and have to deal with a refund and a cranky customer.
It's something that's overlooked in some ecommerce platforms, but we've got you covered.
Ecommerce comes with inventory management. If an item is limited quantity, tell us how many you have and we'll do the rest. That way if you sell out of a product, your customers won't be able to buy what's not there. You can have 1000 or more SKUs for all of your different products for sale, so you don't have to worry about space.
You can also include options for your products, so you can sell sweaters in every color of the rainbow without having to do a lot of extra work. We make it simple to sell as many products as you want, exactly the way you want, with no snafus.
Coupons, Gift Cards, and Promo Codes… Oh My!
Sales and offers. They're really great, but they can be a hassle if you don't have a way to keep up with them. And you want to protect yourself from abuse, so you don't discount the wrong products and not earn what you deserve.
Your PhotoBiz account has a bunch of flexible options to help you run your business the way you want to. Not just percent or money off purchases, but you can have Promo codes, sales and coupons that are as specific as you want them to be. Down to the product category or individual item.
You can even do free shipping coupons, BOGO, and a lot of other options, too. And you can make expiration dates so you can have fine control over the way you want to sell.
Plus, you can sell gift cards of any denomination or issue credit to customers with a code they can use in-person or online.
Boosting Lackluster Sales
We've explored ways of increasing your traffic… but consider this: more traffic doesn't always guarantee more sales!
What happens when a customer lands on your site – are they the *right kind of customer* who is ready to buy? Does your website quickly convince a lead to book sessions or purchase products? Is it inviting and easy to use?
Start by taking a look at your current website. Look for any hangups, navigation problems, or unanswered questions a client might have that would get in the way of their purchase. If you can provide a streamlined experience for customers (without rabbit holes to distract them!) they'll be more likely to make that purchase. Even better if you can direct customers to your most popular (or profitable) products from the get-go. We'll talk more about this in a minute :)
Now what about your current clients? Perhaps when selecting their packages, they're not buying as much as you'd like. Or as fast as you like. 
The theory here is that the longer a client waits to buy, the less they will. So what to do?
John K. gave me the rundown about a simple trick to increase your package sales – and it's sort of genius. He calls it the "CUP" method:
C – CAPITALIZE on your client's excitement.
U – Create a sense of URGENCY.
P – Create financial PAIN if your clients wait.
Here's how it works:
1. CAPITALIZE on your client's excitement for maximum benefit.
One of your biggest assets is the excitement your client feels after their session. Therefore, it is critical for you to CAPITALIZE on this enthusiasm to drive more sales. 
Get proofs out as soon as possible, and send teasers to keep that excitement level up in the mean time. "Editing these photos now, aren't they great @jennyross? Final proofs coming this weekend :)"
Next, make a big TA-DAH!! reveal to your client, and if possible walk them through their gallery to make it an experience. 
Last, consider throwing in a small keepsake. This really ups the value and makes the client feel like you are investing in them. They will be more likely to return in kind, spending more because they feel excited and valued. All without you giving up too much or discounting your work. A net win! 
2. Create a sense of URGENCY.
Your customer is thrilled! This is the optimal time for them to make a purchase, so make sure that they act NOW. 
Give your clients a short window of opportunity (2-3 weeks) to finalize their order. You can do this by creating a sense of URGENCY. 
If people know they have months to decide, they will procrastinate. Ensure clients adhere to this scenario by making their inaction more unappealing than buying immediately.
3. Create financial PAIN if your clients wait.
You create "PAIN" by making things more expensive if your clients wait to complete their purchase. 
When you create your event galleries, set them to expire in a few weeks. After that time is up, clients will have to pay a fee to reopen their galleries – an unappealing option! Tell your customers about the ordering process beforehand so they will be ready to make quick selections.
This helps you make sales in a timely manner when your customers are more apt to make them. 
Driving People To Popular Products
Look at the way Melanie Anderson draws attention to her ring lights. She sells a ton of these, and it's not hard to figure why. 
She doesn't bury the product in a store or product page. It's right up front and center – begging people to take a look. 
Don't leave it to chance for your customers to find your products. Put it in their faces immediately.
Feature your most popular and profitable items on your homepage. Same for any mini-sessions or classes you're booking. You can do this by creating LINKED BANNERS & LIST ITEMS that act as graphic ads for your own business.
You can put "display ads" for these high-profit items on your homepage, blog, info pages, in the footer… wherever! Get creative and look for opportunities to drive people deeper without them having to navigate to find it.
Also think about how you can "advertise" these items on social media or elsewhere. I put "advertise" in quotes because you want to raise awareness without being sale-sy. Blogging is a great way to market your products without… SELLING them. With social media, make everything about your customer. 
They will be thinking, "How can this help ME?" "Why should I care?" so answer that question. Show how your product solved a problem. What it looks like in use. A testimonial about how much a customer loves it.
When you make your marketing about *your customers* they will pay more attention to your message.