PhotoBiz is giving you even more options for selling digital downloads to your clients. Earlier this year we launched bulk downloads and now there is another new option available starting today, Original Files, meaning your original resolution files can be uploaded, stored, sold, and downloaded by your clients using our system.
This highly anticipated feature is built into our easy to use control panel, no need to use a third-party product. It works with the same high-quality standards as all of our products and should make the purchasing process for your clients easy. Our price is very competitive and transparent, you know exactly how much it will cost you, no hidden fees, no mystery calculators or limited "unlimited plans" that surprise you later. 
The Original Files add-on feature allows you to upload your highest resolution files up to 25MB per file and make those high-resolution files available for your clients to download through our Proofing tool. The normal file size max is 4MB, so this is a huge jump! 
That's not all, you can now store these original files for safekeeping in your PhotoBiz account. No resizing. No optimizing for the web. Our system will continue to automatically make versions of your images when you upload so that your images display and perform their best on your website, but now the original files will be stored. 
This opens doors for your clients to have endless options for printing the digital images they purchase. If they want a 24 X 36 canvas, they can use the original file to download. If they want to print a 30 X 30 wall print, you can use the original file option to sell it to them to print it. If they want to have a 30 X 24 poster made with the original file, they can!
Original Files is an optional add-on for $10/month.
To purchase and activate this option, log into your PhotoBiz account, go to the GET MORE tab, and select ORIGINAL FILES.

The $10 monthly original file size add-on converts your file storage space into space for original files. Each photo or file you upload will be original file size once enabled no matter how many files you have.
Note: Your total file storage space is still 5,000 files unless you pay for additional storage. You will need to reupload images already in your account to unlock this new feature. Original files of previously uploaded files are not available unless you upload them again. 

Purchase the original files add-on today, and start selling even higher resolution images that retain their original image size and quality! 
How do original files work?
When Original Filesis purchased, you unlock a third option for digital downloads in Proofing. In addition to the existing web resolution and high-resolution options, you'll now have the option to sell original file sizes. Here are the details about each file option: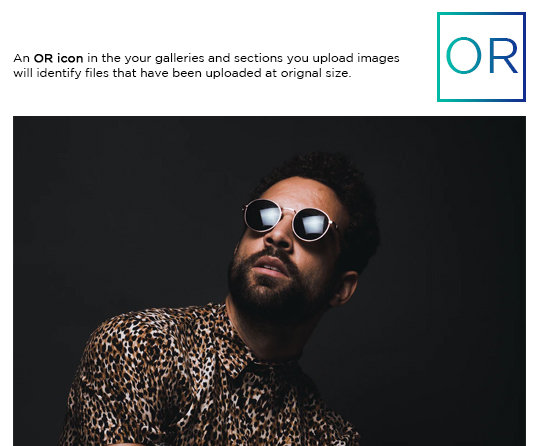 Web Resolution
Images for web use only. It will be a max of 1500 x 865 pixels and 72dpi. Up to 4MB.
High Resolution
Images will be a max of 3000 x 1730 pixels and 72dpi. Up to 4MB.
Original Resolution 

(NEW)
Original uncompressed images up to 25 MB.
How Does PhotoBiz Files & Storage Compare to Other Platforms?
WEBSITE + PROOFING WITH 5,000 FILES
| PhotoBiz | $25/month |   |   |
| --- | --- | --- | --- |
| Pixieset | $28/month |   |   |
| ShootProof | Not Available |   |   |
PROOFING ONLY WITH 5,000 FILES
| PhotoBiz | $10/month |   |   |
| --- | --- | --- | --- |
| Pixieset | $16/month |   |   |
| ShootProof | $17/month |   |   |
YEARS OF INDUSTRY-LEADING PASSIONATE SUPPORT® BY TELEPHONE
| PhotoBiz | 15 Years+ |   |   |
| --- | --- | --- | --- |
| Pixieset | 0 Years |   |   |
| ShootProof | Less than 1 Year |   |   |
HAS ALL THESE FEATURES IN ONE PLACE?
Photography Centric Platform, Fully Responsive Website, Proofing, Integrated eCommerce, Professional Support, Forms & Contracts, Scheduler, Email Marketing, Managed Hosting, Stripe & Square, Merchants
ONLY PHOTOBIZ 


If you need assistance in setting up original files or additional file storage on your account, our Passionate Support® team will be happy to assist you. Give us a call 866.463.7620.