Earlier this year we released our Form Builder and gave it to current PhotoBiz clients. If you've tried it out, you've already seen how powerful it can be for capturing sales leads.
You can use forms in literally any way to gather information from visitors and existing clients. Build and share as many custom forms as you want to get referrals, run contests, book appointments, record agreements, and make first contact with website visitors.
But after your leads come in, you need a way to properly organize that landslide of data so you can draw on it later for smart and targeted remarketing. Our solution is elegantly simple: Tags.
This article is going to show you how to use Tags on your Forms to quickly put your contacts into lists based on how, where, and when each contact was made.
Set Up Automatic Tagging On Forms
Think about how you'd like to group your sales leads.
If you offer different kinds of photography (or manage multiple sites), you may need to know which contacts are interested in weddings and which need senior portraits. Maybe you'd like to keep track of the leads you got at the conference this year.
Every form can have tags assigned to it so that when a contact comes through, that lead is automatically assigned to the group(s) you want. You can then sort your Contact List to quickly and easily pull those groups on the PhotoBiz control panel or in the free PhotoBiz To Go app.

Manage Multiple Brands or Mini-Sites
You can create as many forms as you wish with the Form Builder, so if you have multiple sites you can create a specific contact form for each page and tag it accordingly. Now, with a few clicks you'll be able to pull an accurate and specific list of leads for each site.
I always like to use Blair Phillips Photography as an example of this, because his studio offers a wide range of styles and he separates his brand on multiple sub-sites specific to the different services he offers.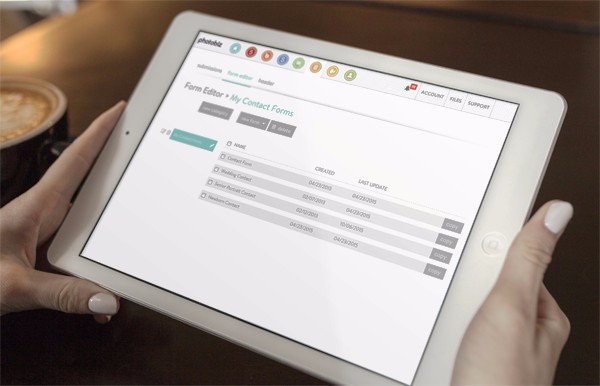 Pull Targeted Lists for Easy Remarketing
Tags work great for keeping up with customers far beyond first contact. Say you want to send a special offer on weddings, or offer referral discounts. Instead of manually pulling your contacts for remarketing, you can very quickly and simply export a tagged list of contacts.
From there, you can build email campaigns around these lists, do follow up phone calls, or even find people on social media and add them to your network for marketing purposes.
Tags are a fantastic way to manage your sales leads list for your studio and continue to grow your client base.
The PhotoBiz Form Builder is one piece of the Client Relationship Builder by PhotoBiz that all clients have on their account. Please don't hesitate to give our Passionate Support team a call with any questions you have about how you can use the business tools we've given you to help boost your sales!