Did you know that your PhotoBiz account now has FREE email marketing built in? 
(Yes! You! In your account! Free! That you can use right now!)
This is good news for business, because email marketing is one of the most effective ways to close sales with past customers, current clients, and leads who are still making up their minds.
So where do you begin? Here are 4 simple emails you can send this weekend to get customers thinking about your business.
"Buy Again!"
It's way easier to sell to people who have already bought from you. And there's no better way to turn past customers into repeat customers than by offering them a special deal.
Remember all those weddings you shot last spring? Chances are, most of them are coming up on their first anniversary. And the newborns you photographed last year are about to turn one!
You already have a relationship with these customers, so sending them an offer (or at least a reminder of what a good photographer you are) could be the difference in a slow spring and a very busy season. 
*PRO TIP*
People are wary of automated emails that arrive RIGHT on a certain day (like your birthday, for example). It's a nice thought, but a little TOO "convenient" — too scheduled for a human. 
Add a personal touch by sending your offer far enough ahead of time to make an anniversary or birthday shoot feel spontaneous and thoughtful.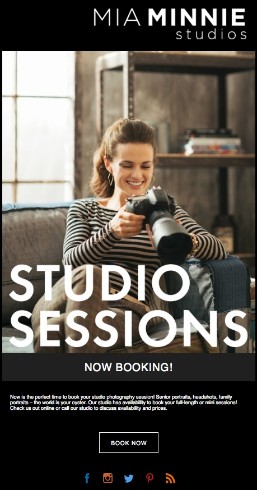 "Tell Your Friends"
Each of your clients is a gateway to a dozen or more additional customers. 
Remember that big wedding you shot last year? That lovely couple in their twenties. A large reception, with all their guests and bridesmaids, also in their 20's and 30's. Most already in pretty serious relationships… how many of them do you think will be getting married soon?
How many have already seen your awesome work on the happy couple's Facebook, Instagram, and holiday cards? 
They already know you're a talented artist, and a referral from a trusted friend carries enormous social capital.
Send an email to your past brides letting them know that their friends can get a deal on photography. They'll be happy to share the news with their friends and contacts, who will jump at the chance to get great photos at a discount.
*PRO TIP*
You can kill two birds with one stone by offering past clients a deal AND mentioning you'll give their friends the same deal. 
"Just tell them to mention your name and I'll take care of the rest..."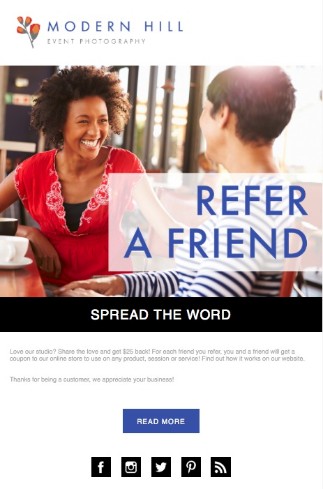 "Thanks For Stopping By Our Event"
If you recently went to an event or trade show, it's a good idea to thank the folks who stopped by your booth with a quick email.
It doesn't have to be anything complex or super fancy — just a nudge to help them remember your business. 
Thank-Yous are most powerful when paired with a coupon or other incentive. A small discount or freebie can go far to make a casual conference-goer feel appreciated and close the sale.
*PRO TIP* 
Tired of putting all those business card contacts in by hand? Next time, make a FORM specifically for the event. Tag the form with the NAME OF THE EVENT and boot it up on a tablet for the show. 
Have contacts put their info directly into the form, and voila! All your leads automatically appear in your contact list TAGGED WITH THE EVENT. That way you can send a post-show follow-up faster than you can say "list validation."
"What's New"
Not all marketing messages should be about making a sale. A lot of people will sign up to get coupons, but as a photographer, you're also focused on building relationships and your brand image, too. 
Don't forget to build awareness and good feelings by simply sharing what's going on in your world and in your photography circles.
When you write a particularly awesome blog post or want to share an amazing session, promote it over email and watch traffic to your website rise. You'll stay top of mind with clients and show your expertise as a pro photographer.
*PRO TIP*
If you're not blogging, you're missing out on free marketing! 
Even if it's only once a month, post some recent images or share a special studio session on your website. Write about a conference you attended or a trip you took. If you have a pearl of wisdom about your industry to share, do it! 
Then share your blog on social media to drive more customers back to your website. Regular blogging is also great for SEO, so it's worth it to invest an hour or so a month into building up a more robust digital footprint.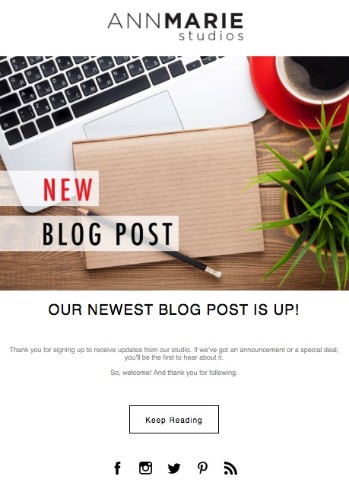 Still a little lost on how email marketing fits into your online presence?
Check out our primer on email marketing and click here for more examples of easy emails you can send!