If you've spent more than 5 minutes in the past year doing any of the following, you're going to want to keep reading:
Licking envelopes
Printing flyers
Combing through business cards
Adding to your rolodex
In their hay-day, all these activities may have led to a strong customer base, but let's be honest with ourselves – times have changed.
Modern marketing lives in the online world – a combination of social media activity, emails, a strong website, and providing your followers with content they want to read or talk about.
Cue Email Marketing; a new productivity tool you can find in your PhotoBiz account.
Yes, we're serious!
Your eyes weren't playing tricks on you – emailing your clients is now possible, right from your PhotoBiz control panel. With just a few clicks, drags & drops, you can choose an email template, add your branding and social media links, and send off to eager readers who can't wait to hear about what deals you may be offering or when your next round of mini-sessions is going to be.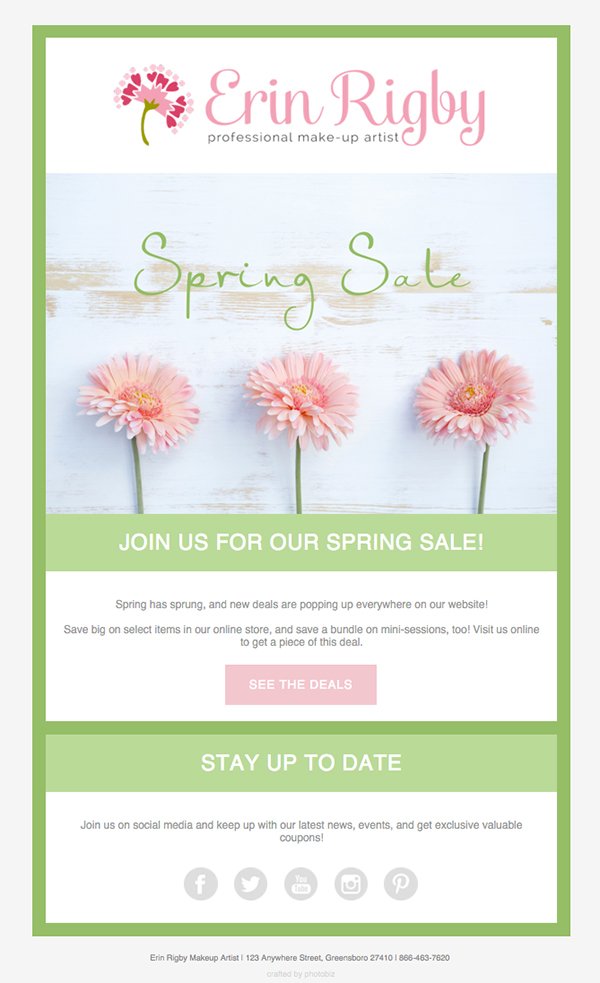 Remember the other cool little tool called contacts that we've been talking about for a while? Well, the people that have been collecting in your contacts database through filling out forms on your website, ordering from your online store, or viewing your proofing galleries are a great base for you to communicate with. They've already interacted with you online, therefore, will likely be interested in other info you decide to send.
And want to know our special pro-tip? Tag the contacts that come from your online forms so you can easily choose groups to receive certain types of communication.
But wait, there's more!
The email campaigns you build and send through your control panel do double duty compared to the typical email. Promotions are saved online as landing pages that can be shared directly to social media. Built-in sharing tools allow you to share directly to Facebook, Twitter, Pinterest & more. Traffic to your website turns into more leads, sales, referrals and customers. An added bonus – your SEO may see a boost, too!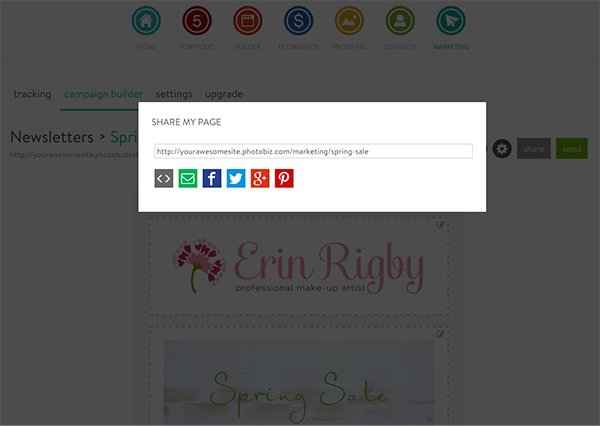 Kick off 2016 with a strong marketing campaign! As a PhotoBiz client, the tool is already in your control panel - just click the paper airplane at the top labeled "Marketing."
If you want some help getting started with email marketing, give our Passionate Support Team a call. They are equipped with the tips, tricks, and trusted advice to help your business grow.