So far you've been able to use the new drag & drop builder to make Forms, Email Marketing campaigns, and Landing Pages. And the feedback has been tremendous.
Now it's time to share the love with the Blog Builder!
Starting RIGHT NOW, every PhotoBiz Blog has been upgraded to use the Visual Drag & Drop Blog Builder functionality.
Gone are the days of manually entering headlines and image links! Say so long to custom coding to make your blog sparkle! Your drag & drop builder goes leaps and bounds beyond the capability of our old blogging system.
Check out this action:
Boom. Amazing.
And in addition to cool dragging and dropping, the blog builder reboot has a ton of other super useful features built right in.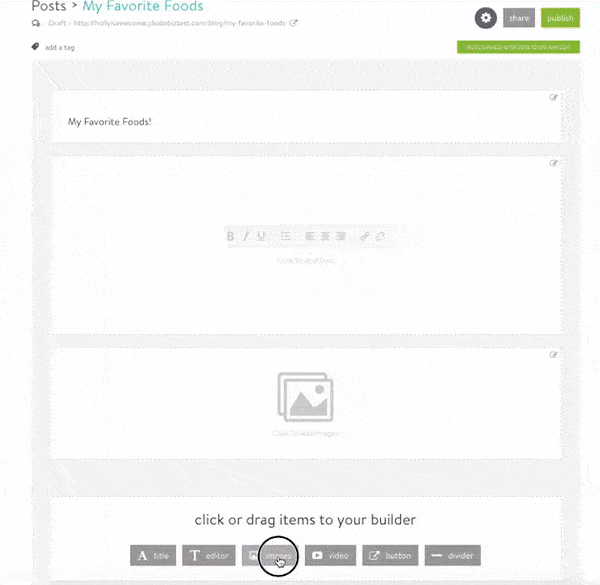 Make photo collages!
SERIOUSLY? Yes, seriously. Upload your images, choose your layout and voila! Custom collages for your blog that adapt to any screen size.
Say hello to buttons and videos!
No more slumming with hyperlinks – we're coming in hot with embeddable videos and buttons. Make your blog as fancy as you want. Send visitors straight to your signup page or session booking with legit buttons.
Rock out with a more robust text editor!
Sometimes it's the little things that bring the most joy. And while this whole update has us pretty jazzed, there's just something about simply pressing a button to create an H1 or H2 that makes my fingers tingle. (Call me a nerd. I dare ya.)
Look like your favorite Newsie with 2-column text!
Love that newspaper column style? You can look like a literary genius with a two-column text layout that mimics your favorite periodical, journal, or gazette.
Are you stoked yet? I can go on and on about the new blog builder. But
Don't waste another minute listening to me
And as always, we're standing by ready to answer questions and help you get started using any of our tools. Give us a ring, and we'll be happy to help.